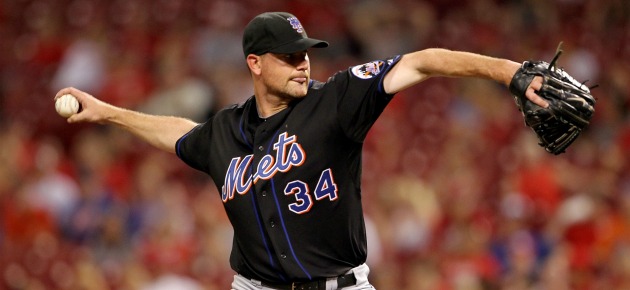 By Evan Brunell

SINKING
:
Mike Pelfrey
thinks he has his sinker back and is hoping to reclaims some optimism during a season where Pelfrey crumbled under the weight of being considered an ace, regressing from a 3.66 ERA in 204 innings last night to a 4.55 mark to date.
"Mike takes such pride in what he does," pitching coach Warthen told the
New York Daily News
. "I see a guy who was forcing his pitches instead of throwing them."
Pelfrey, for his part, believes that mechanics were an issue. The right-hander's bread and butter has been his sinker, but that lost effectiveness when he altered his arm slot to make his secondary pitches more effective. While Pelfrey isn't scrapping his arm slot, he did say he has to make sure to get his arm out in front of his body more when he throws the sinker. Perhaps then, Pelfrey thinks, he can start racking up the numbers he produced last season even though his peripherals in both 2010 and 2011 are rather similar.
"... I've never seen anybody that can command a baseball as well as he can," Warthen added. "So when he goes out and walks three, four, five guys, I'm just baffled. It's beyond my belief that that can happen with a guy who can do the things he can with the baseball."
Pelfrey will face the
Marlins
on Monday night and has long struggled against Florida with a career 1-7 record and 5.25 ERA in 15 starts. He'll look to use his sinker, which pushed him to a complete-game victory last time out, to walk away with a win. (
New York Daily News
)

TOP GMS
: You usually see a winners or losers list come out of the trade deadline, but what about a list of best GMs for those who focused on the short-term and then long-term? Unsurprisingly, contending teams dominate the first list, rebuilding the latter. (
ESPN's Jim Bowden
)

BAD BACK
:
Clay Buchholz
appears to have a stress fracture in his back, which will shut him down for the rest of the season and most likely the postseason as well.
David Wright
recently missed two months with a stress fracture. (
CSNNE.com
)
BELL EXTENSION
: Now that
Heath Bell
is staying in San Diego, the talk can turn toward the
Padres
potentially signing him to a contract extension. Bell, for his part, continues to stand by his proclamation that he will accept a three-year deal with a hometown discount to stay with the Pads. (
North County Times
)
Dodgers DEAL
: The Dodgers are considered one of the
biggest losers of the trade deadline
, dealing a blue-chip prospect for three organizational players. Steve Dilbeck pens a defense, saying the blue-chipper in Trayvon Robinson clearly didn't fit in Los Angeles' plans, plus they finally got the prospect catcher they coveted in Tim Federowicz. GM Ned Coletti says Federowicz could make the roster next spring training. (
Los Angeles Times
)
Cubs DON'T DEAL
:
Carlos Pena
, who is expected to resign with the Cubs should Chicago miss out on
Prince Fielder
in free agency, was thrilled the Cubs stood pat at the trade deadline.
"I'd rather have someone really working toward our common goal, instead of (trading players) just for show," Pena said. "Our GM is not like that. He's not trying to 'look' like he's working. He's working. It's totally different than [thinking] 'I can fool the world by switching a couple pieces here,' and it really looks like he's making moves, making changes. When in reality it's just all for show.
"He's not like that. He's doing something that's going to mean something at the end of it all, something substantial, and we're going to reap the benefits. I'd rather have that. We put all our heads together, all our energy together, and personally, I'm excited about the possibility of me being part of that team. Even with our record at this point, with our difficulties, I can say the same thing. I'm excited about what's coming."
Sorry, Carlos. Hendry still messed up. (
Chicago Tribune
)
THAT'S NICE
: That's the reaction of columnist Dejan Kovacevic on the
Pirates
' haul at the trade deadline, bringing in
Derrek Lee
and
Ryan Ludwick
. Unfortunately, they may be arriving aboard a sinking ship as Pittsburgh's pitching regresses. (
Pittsburgh Tribune-Review
)

BEHIND THE SCENES
: Here's a quick look behind the scenes of the
Francisco Rodriguez
trade that sent the
Mets
closer to Milwaukee. K-Rod requested that his vesting option for 2012 be waived so the Mets were free to make baseball decisions about Rodriguez's usage. Alderson used that information to convince other teams the closer would void the option, which is exactly what happened once the righty moved to Milwaukee. (
New York Times
)
LOOKING FORWARD
: Manager Eric Wedge won't let the
Mariners
get complacent the rest of the way, even if the trades made at the deadline deleted two strong pitchers from the staff and clearly set Seattle back this season. "What we're not going to do is spin our wheels," Wedge said. (
MLB.com
)
TOP DH
: One of the best DHs in baseball history is Frank Thomas, who wasn't afraid to proclaim
David Ortiz
an all-time great at the position. Also, Thomas is a believer that DH gets a bum rap when it comes to Hall of Fame voting and perception of the position. "You ask any DH in the league how tough it is to sit there and pinch hit four times a day and put up monster numbers," he said. (
Boston Herald
)
OPTION VESTS
:
Bobby Abreu
's option for 2011 vested with his 433rd plate appearance of the season, reaching the milestone in the ninth inning Sunday against the
Tigers
. Abreu is now tied to Los Angeles for one more season at $9 million.
For more baseball news, rumors and analysis, follow @cbssportsmlb on Twitter or subscribe to the RSS feed.