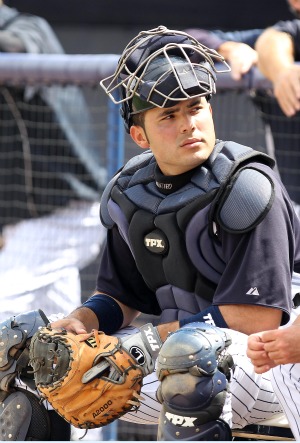 By Evan Brunell

Hidden in the news about top
Yankees
prospect Manny Banuelos' promotion to Triple-A is the news that Jesus Montero will be promoted to New York "in the very near future," the
Trenton Times reports
.
The Yankees do need him at both catcher and DH, spots that Montero can fill in. While his promotion is overdue after hitting .289/.353/.517 with 21 home runs as a 20-year-old in Triple-A back in 2010, Montero did fall off this season when he couldn't come out of spring training with a roster spot. That has contributed to Montero hitting just .283/.342/.429 back at Triple-A, drawing
reports that he is "bored,"
which may have contributed to a
recent benching for "lack of energy."
But there's no question that the power Montero flashed last season that made so many teams drool and was almost enough to acquire
Cliff Lee
is still hiding in his bat. With the Yankees staying pat at the trade deadline, they need to upgrade themselves internally now that
Russell Martin
has cooled off behind the dish. Martin is hitting .225/.326/.366 on the season in 328 plate appearances, a line that further sinks to .203/.310/.288 in 63 games, from April 27 through July 31.
That just won't cut it, so with the addition of Montero, Martin could start losing playing time. Montero could quickly supplant catcher
Francisco Cervelli
and enter into a platoon of sorts with Martin provided Montero can keep up his defense behind the plate, which is a significant question mark.
In addition,
Jorge Posada
's new career as a DH just isn't working out, with nine home runs on the year and a .235/.318/.383 figure. Remember, this is from the DH spot, so he's adding zero defensive value. Here's where Montero can get most of his playing time.
In fact, Posada could be in danger of being released. If Montero is recalled, it stands to reason that one of Cervelli or Posada will lose his job. If it's Cervelli, all of a sudden Martin's two backups are defensively-challenged, and one of them will be starting at DH on any given day. It makes more sense to dump Posada, free up DH for a full-time audition by Montero and leave Cervelli to keep Martin fresh.
Worst case, Montero fails and puts up numbers similar to Posada's. In that case, they're no worse off and can just go acquire a bat at the end of August in advance of the waiver trade deadline.
For more baseball news, rumors and analysis, follow @cbssportsmlb on Twitter or subscribe to the RSS feed.