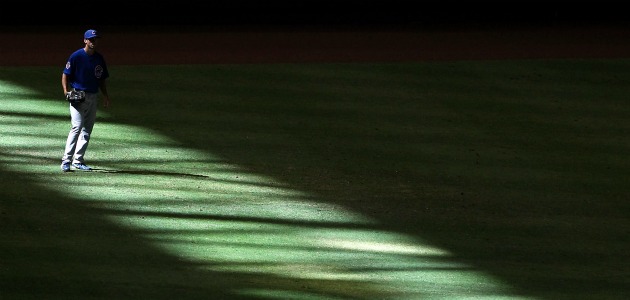 By Evan Brunell

TO PLAY OR NOT TO PLAY
: OK, let me get this straight.
First,
GM Jim Hendry somehow avoids making any trade of significance
to help the
Cubs
moving forward in a futile attempt to keep the team relevant. Now, he and manager Mike Quade are not even playing one such person that could have a big impact next season?
The only Cubs deal at the deadline saw outfielder
Kosuke Fukudome
head to the
Indians
, freeing up right field for
Tyler Colvin
. Colvin hasn't impressed in the majors this season, but has been coming off the bench for the most part, also struggling in Triple-A. Still, he's a year removed from 20 home runs.
"The most important thing was that Tyler had to play," Hendry said of the Fukudome trade. "We saw the Tyler last year, and the Tyler this year wasn't quite the same. He went down to Iowa and worked hard, and it looks like he's made some progress and he deserves to play the rest of the way.
"And we need to find out whether he's an everyday guy or not by the end of this year. No matter how you slice it, the outfield situation, just like a few other (positions) will have to be addressed in the offseason."
Great. Except Colvin hasn't been in the lineup for two straight games. Quade seems to believe Colvin will get plenty of playing time the rest of the way, but if he's benching the 25-year-old to get
Reed Johnson
-- an aging, backup player -- more at-bats, Quade has the wrong idea here. (
Chicago Tribune
)
STAYING IN SAN DIEGO
:
Heath Bell
says that he will take an offer of arbitration if the
Padres
offer it after the season, as that's how important it is to him to stay in town. This could complicate things for San Diego, who didn't deal the closer at the deadline for two reasons -- the possibility of signing Bell to a hometown-discount extension, as well as the chance to get two compensatory picks should the two sides be unable to agree on a new contract. Now, it seems San Diego may have erred in keeping Bell if they will have no choice but to retain him. (
San Diego Union-Tribune
)
SPELLING BEE CHAMPIONS
: The
Giants
definitely are not spelling bee champions, even if they remain the reigning World Series champions. Check out this amusing photo snapped that shows the spelling prowess of those on the team. (
BayBridgeBaseball.com
)
NEW AGENT
: When Japanese pitcher Hisashi Iwakuma was posted last offseason, the A's won the bidding but talks quickly broke down when Iwakuma's agent asked for an exorbitant amount to sign and accused the A's of not showing any respect. Well, Iwakuma's taking no chances this time around and has hired Paul Cobbe of Sosnick-Cobbe Sports to be his new agent. Expect him stateside in 2012. (
ESPN
)
KEMP DOMINATION
: How amazing has
Matt Kemp
been this year? How important is he to the
Dodgers
? Let Anthony Jackson tell you: "Kemp has hit 36 percent of Dodgers HRs, has 22 percent of their RBIs and 35 percent of their stolen bases. Only other player in past 100 years to have 30/20/30 percent of his team's total in those three categories over a full season was Hank Aaron, '63
Braves
." Lofty company. (
ESPN Los Angeles
on
Twitter
)
COWBOYS FAN
: When
Mike Adams
was traded to the
Rangers
, everyone knew that he was a Texas homeboy. But what people didn't know is he had a Cowboys jersey ready to go in the Padres clubhouse as he had worn it earlier in the week. Miles Austin, the player's jersey that Adams is wearing, said he will go out and purchase an Adams jersey. "It's a great feeling when anyone from any profession, especially baseball, [wears your jersey]," Austin said. "That's America's pastime. I used to play baseball, but I ended up not being able to hit the curveball when I hit the eighth grade." (
Ft. Worth Star-Telegram
)
STEWART ALMOST DEALT
: The
Rockies
thought they had a deal for third baseman
Ian Stewart
with another National League team (the
Pirates
, I'm guessing) but talks fell apart with a half-hour to go. (
Denver Post
)
INJURIES ON THE RISE
: Major League Baseball injuries are on the rise, the
American Journal of Sports Medicine
details in its latest study. You would think this is odd given how treatment of injuries and physical conditioning have improved over the years. Is there a concerning trend? Maybe, but you can't draw conclusions from this as Hardball Talk notes. After all, these days players aren't asked to, for the most part, play through their injuries. Plus, the advent of technology has improved diagnosing injuries. (
Hardball Talk
)
DONUT
: Hey Hunter, you're supposed to take the donut off the bat before you step to the plate. (
Mocksession GIF
)
SMALL STEPS
: Former
Red Sox
top prospect Ryan Westmoreland is gearing up to face live pitching for the first time since his brain surgery over a year ago. It's a major step forward, and Westmoreland doesn't care how he performs. Just that he's finally facing a pitcher. (
Providence Journal
)
MAJOR-LEAGUE EXPERIENCE
: The
Nationals
have the right idea, promoting
Ross Detwiler
to the rotation on Thursday. The club wants to give all their young starting pitchers as much experience as possible. Brad Peacock and Tom Milone will also get long looks. Some room in the rotation will be made by the exiting
Jordan Zimmermann
, who has about four starts left before he reaches his innings limit. (
Washington Post
)
HITS PER NINE INNINGS
: Here's an interesting look in the leaders in hits per nine innings. Obviously, the leaders in this category are all solid pitchers, anchored by Nolan Ryan in the top spot. (
Beyond the Boxscore
)
TORN
:
Freddy Sanchez
will have surgery on Tuesday to repair a torn labrum in his left shoulder. You won't see him again this season. (
Comcast Sportsnet Bay Area
)
KISS CAM
: At the
Reds
game, a fan got down on one knee and proposed to his girlfriend on the kiss cam. Problem: he fished the ring out from his fanny pack. So many comments to make... (
MLB.com
)
For more baseball news, rumors and analysis, follow @cbssportsmlb on Twitter or subscribe to the RSS feed.