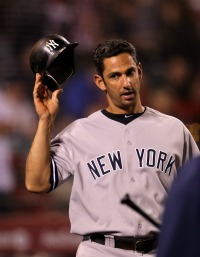 By C. Trent Rosecrans
Throughout the next month, you'll hear every once in a while about players that have been placed on waivers. That doesn't mean your favorite team is going to release a star player, it's just that they're keeping their options open.
With that in mind comes this report from the New York Post that the Yankees have placed A.J. Burnett, Rafael Soriano and Jorge Posada on waivers.
All three are priced high enough that it's unlikely they'll be claimed. None of the three seem to be that appealing in a trade for another team, either.
Burnett is the team's No. 2 starter -- by payroll, if not performance. He has a record of 8-9 with a 4.23 ERA, but makes $16.5 million through 2013. He does have a limited no-trade clause, allowing him to block trades to 10 clubs.
Soriano signed a three-year, $35 million contract before the season to serve as Mariano Rivera's setup man. He's appeared in just 17 games this season and has allowed nine earned runs in 16 innings, while striking out 12 and walking 11. It's unlikely anyone will want to take on his contract, despite his 45 saves last season for the Rays.
Then there's Posada -- who has famously played for nobody but the Yankees in his 17 seasons. Posada is a free agent after the season, but appears headed for retirement. He's hitting just .236/.318/.382, starting 66 games at designated hitter and eight games at first base, all for $13.1 million.
For more baseball news, rumors and analysis, follow @cbssportsmlb on Twitter or subscribe to the RSS feed.