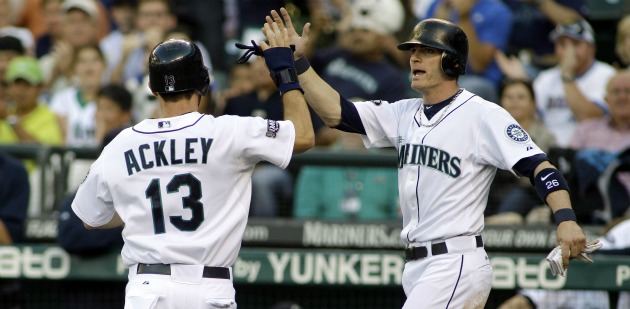 By C. Trent Rosecrans
You want to see the best hustle play you may see all year?
Witness Brendan Ryan in the first inning of Tuesday's game against Oakland. WIth one out, Ryan hit the ball to shortstop Eric Sogard, but beat it out for an infield single. First baseman Connor Jackson caught Sogard's wide throw, and held onto the ball. Ryan noticed nobody was covering second and took off to take the extra bag. Once he slid into second, he noticed nobody was on third and took that base, as well. Kurt Suzuki stayed at home or else he could have scored on an infield single.
Dustin Ackley followed with a walk and then Mike Carp doubled in both runners to give Seattle a 2-0 lead.
That's the kind of thing you just have to love seeing, especially in a game featuring two teams a combined 25 1/2 games out of first place. Bravo, Brendan Ryan, bravo.
For more baseball news, rumors and analysis, follow @cbssportsmlb on Twitter or subscribe to the RSS feed.