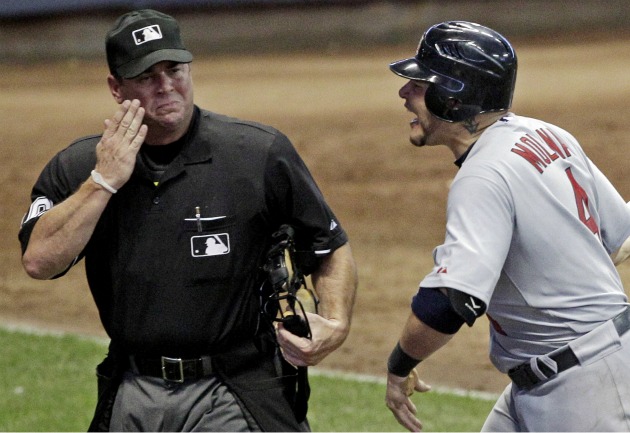 By C. Trent Rosecrans
Tuesday night's Cardinals-Brewers game was highly entertaining, but it took a very ugly turn in the 10th inning when St. Louis catcher Yadier Molina spit in the face of home plate umpire Rob Drake after bumping him at least three times.
Molina didn't appear to rear back and spit directly in the face Roberto Alomar-style, but he was yelling and Drake was the victim of collateral spit and obviously wiped his face multiple times. Even as Molina was in the dugout and still yelling at Drake, the umpire used his shirt to wipe spittle from his face.
Molina watched a called third strike at the knees to lead off the top of the 10th inning and went nuts on Drake -- bumping Drake twice and then after Drake tried to turn away, Molina came back and bumped him again. Molina was ejected after the first bump. Molina denied spitting on Drake.

"That was a bad call," Molina told reporters, including Derrick Goold of the St. Louis Post-Dispatch. "I never spit on any face or man. In the moment, I was yelling. I didn't spit."
Molina had to be held back by teammates and coaches as he continued to go after Drake.
Here's a gif of Molina going berserk from Twitter user
@soccerkevin11
:
And for the record, Pitch F/X showed the pitch was a ball -- even though that's no excuse for Molina's reaction.

Umpires refused to comment after the game.
For more baseball news, rumors and analysis, follow @cbssportsmlb on Twitter or subscribe to the RSS feed.