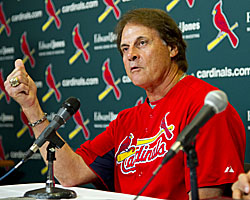 By Matt Snyder
After the intense, extra-innings game against the
Brewers
Tuesday night,
Cardinals
manager Tony La Russa made a comment that sounded like he was calling all fans -- or at least fans in general -- "idiots." Wednesday, he clarified his use of the term and explained why he used it.
"It's gone way too far," La Russa said (
St. Louis Post-Dispatch
). "When they start cursing your family ... The funniest one was a guy said, 'I hope you get shingles again.' That's just stupid."
So La Russa was singling out the fans who were getting personal with him.
He is 100 percent correct about family and health issues being too much. The sad thing is, this isn't even surprising. Whether it's Twitter, message boards, comments under articles or from the stands at stadiums everywhere, people seem to think personal shots at athletes, media, etc. are cool, funny and/or acceptable. Whether it's the dehumanization element -- thinking of athletes/celebrities as immune from feelings because they are rich/famous -- or if these people are genuinely so vile on the inside, I'm not sure. Whatever the reason, it's pretty pathetic. Just be a fan that yells at La Russa to sit down. Or attack his personality if you don't like it. He can control that. Physical health issues and families should be off-limits. Sadly, for far too many, nothing is off-limits.
For more baseball news, rumors and analysis, follow @cbssportsmlb on Twitter or subscribe to the RSS feed.