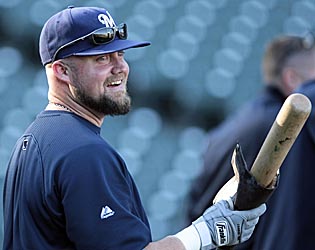 By Matt Snyder
Casey McGehee
went into Wednesday having not hit a home run since July 6. He had just one homer in his previous 65 games. Yet before the game when he was interacting with fans, he found himself being asked to hit a home run for a seven-year-old boy. And McGehee came through, three times in one game.
It all started before the game when McGehee was speaking with the Wollner family for about 15 minutes. McGehee was trying to get a few words out of a shy seven-year-old, named Clayton, when Clayton's mother tried to help by saying maybe McGehee could hit a home run for Clayton (all of the following via
Brew Beat on MLB blogs
).
"Honestly, I feel a little bad about it now," Jennifer Wollner said (
MLB.com
). "I didn't know he hadn't really been hitting this season."
No reason to feel bad, Mrs. Wollner, because McGehee hit three home runs in a game for the first time in his career.
She added (
MLB.com
): "When he hit the first home run we were like, 'Oh my gosh, this is so fun!' When it got to three, we were kind of speechless."
Also of note here, the circumstances of the meeting make this story even better. Clayton has a condition called craniosynostosis, which causes the skull to grow abnormally. The Wollner family was hoping a trip to the
Brewers
game would lift his spirits. They contacted Fox Sports Wisconsin and ended up with an invitation to the game, along with a tour of Miller Park and being allowed to stand on the field while the
Cardinals
took batting practice Wednesday. This was when McGehee approached the family. He wanted to meet them because he has a son with cerebral palsy.
McGehee now has a lucky charm, too.
"I want to bring him to Houston with me, and then we're going to go to St. Louis," said McGehee, perhaps joking, perhaps not, about the team's upcoming road trip (
MLB.com
). "I want to get him a locker — we have a little space right here. Hopefully, we're going to track Clayton down."
For more baseball news, rumors and analysis, follow @cbssportsmlb on Twitter or subscribe to the RSS feed.