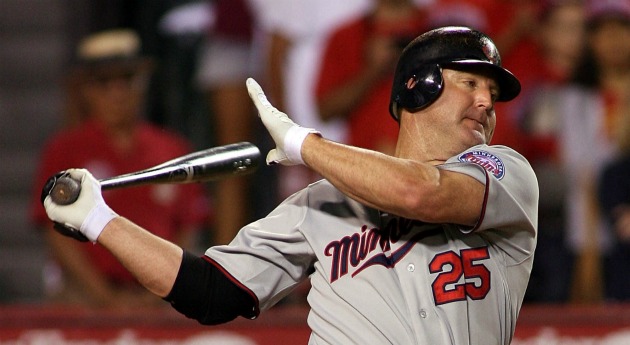 By C. Trent Rosecrans
I know this may seem like a dead horse, but I'm still dismayed at the relative silence around Jim Thome's impending 600th home run. He hit homer No. 598 last night and it seems like it was greeted by crickets. My colleague Matt Snyder wrote about this a couple of weeks ago after I touched on it, so it may seem redundant, but is it any more redundant that the constant (and deserved) fawning over Derek Jeter's 3,000th hit?
I've said all this before, but it just feels like it needs repeating -- Thome will soon become just the eighth player in baseball history to hit 600 home runs. So why is it being overlooked?
Is it because the steroid era has devalued home run totals?
Is it because the next guys on the list are Sammy Sosa and Alex Rodriguez? And the guy atop the list is Barry Bonds?
Is it because Thome isn't a Yankee?
Is it because after 12 years in Cleveland, he's moved around, playing for the Phillies, White Sox, Dodgers and Twins?
Is it because the bulk of his productive years were in Cleveland?

Is it because he's no longer an everyday player?

Is it because there were two weeks between homer No. 595 and 596 and then another two weeks until No. 597?
Is it because Thome has done it relatively quietly, not drawing a lot of attention to himself, therefore not receiving a lot of attention?
Or am I totally off base and blowing this out of proportion?
It could be any one of those reasons or a good combination of all of them. It just seems to me, it's something that could and should be celebrated not just in Minnesota, but all over baseball. Thome now has 598 home runs and will soon have 600 -- I'm not saying they need to dig out the dirt from the batter's box after his 600th and sell the dirt in keychains (like they did for Jeter), but it should be something we watch, anticipate and celebrate.
The long and winding road: If you don't read every word that comes out of Chris Jones' computer, you're missing out. Canada's finest's most recent piece is on the strange journey of Giants pitcher Barry Zito. I can't recommend it enough. [Grantland]
Here today: Most are assuming that Jose Reyes will re-sign with the Mets this offseason, but not so fast say Andy Martino of the New York Daily News. Martino says the Mets are unlikely to give him the "Carl Crawford money" he is assumed to desire (and should be able to command). Apparently it's not just the money that the Mets are worried about, but also the number of years. The Mets aren't excited about giving the injury-prone Reyes seven years.
Get back: Ryan Zimmerman is back to his old form, even though he's been back on the field for nearly two months. Adam Kilgore of the Washington Post writes that it took a while to break up the scar tissue that resulted from his abdominal tear and is no longer experiencing the soreness that had him skipping his post game workouts.
Let 'em in: Ozzie Guillen's time in Chicago just seems to be at a natural end -- the team has underperformed and everyone seems to be tired of the marriage. Guillen sounds like he's over managing the White Sox in this interview with MLB.com's Scott Merkin, while he tells Yahoo! (via the Miami Herald) that he'd go to the Marlins "with a lot of class," and that it'd be "an honor to manage the Marlins." With Florida moving into a new park next year, it seems like the natural fit -- and he could manage there until Jeffrey Loria loses his patience at the All-Star break next year.
Here today: Red Sox minor leaguer Brandon Jacobs has no regrets about his choice to bypass a football scholarship at Auburn to sign with the Red Sox. Jacobs was a prized running back at Parkview High School in suburban Atlanta, but was drafted by MLB -- and a $750,000 signing bonus later, he found himself on the diamond instead of the gridiron. The 20-year-old has 14 homers and 26 stolen bases at Class A Greenville (S.C.). Even though Auburn won the national championship last season, Jacobs said he watched the game and didn't feel a twinge of regret. An interesting note, Parkview is the alma mater of another prominent football player who skipped a scholarship to play baseball, the Royals' Jeff Francoeur. [Boston Globe]
It was 10 years ago tonight: The Hardball Times looks back at the Indians' rally from an 11-run deficit to beat the Marienrs on Aug. 5, 2001. One thing to keep in mind about that, the Mariners won 116 games -- if they hold a lead, it's 117, a record number of wins. The 1906 Cubs also won 116 (in 10 fewer games).
I've just seen a face: Can't get enough of of Kenta Imamura, the Ichiro impersonator? Well, you're in luck. Apparently Imamurua is a professional Ichiro impersonator and is nicknamed "Nicchiro" -- "ni" is Japanese for two. [Super Ichiro Crazy]
Maybe I'm amazed: A baseball signed by Joe DiMaggio and kissed by Marilyn Monroe sold for $59,750 on Thursday. The bidding started at $17,000 and quickly escalated. [New York Daily News]
For more baseball news, rumors and analysis, follow @cbssportsmlb on Twitter or subscribe to the RSS feed.