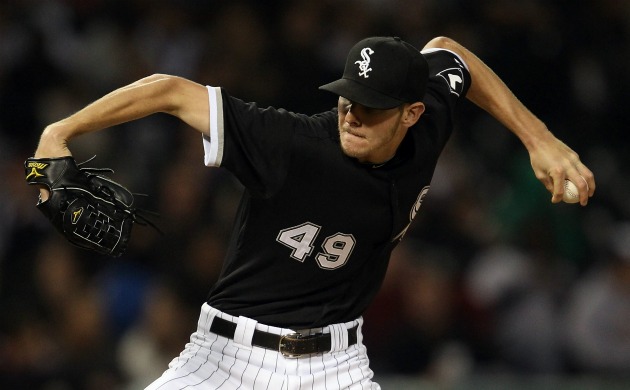 By Evan Brunell

Any hope for
Chris Sale
fans that he might collect a few starts before the end of the season has now completely vanished, the
Chicago Sun-Times
reports.
''I think [general manager] Kenny [Williams] wants him to be a starter next year, but I don't think we should [start him this year],'' manager Ozzie Guillen said of Sale, who was drafted in 2010 and made the majors the same year as a reliever. ''I want to win a couple more games. I don't care if I'm in last place or not, I'm going to play every day to win. I might see one guy here or there, but my job is to win games."
The White Sox have lost seven of their last 10 and has slipped to 6 1/2 games out of first place. Still not insurmountable, especially if the club catches fire in a weak division, but the days are growing shorter. Still, Guillen isn't prepared to give up chasing the postseason, and Sale, at least for 2011, is best utilized in relief. He's gone thre innings a few times, so his endurance hasn't waned. In 51 innings, he's struck out 53 and walked 19, registering a 2.82 ERA and three saves. Yet, Guillen didn't completely discount starting Sale, even if he opened up the discussion by discounting it.
''Obviously, if we get to that position [where we're out of it], I'll give the kids a chance. In the meanwhile, I'm not going to go out there and throw everything away. I don't know what exactly they have planned next year for this kid. I think we should prepare him in spring training and the offseason.''
Sale is expected to be a member of a rotation in 2012 that could have as many as three new members. One member whose spot could be in danger is Phil Humber, the unheralded minor-league free agent signing and former trade chip in the
Johan Santana
deal. Humber broke through this season for pitching coach Don Cooper and the ChiSox after flailing in Minnesota and Kansas City. In a new AL Central town, Humber forced his way into the rotation as a permanent member by posting a 2.69 ERA over 103 2/3 innings. He made the White Sox arrange their rotation into six members once
Jake Peavy
was healthy, then greased the skids for an
Edwin Jackson
trade. Yet, over his last four starts, he has a 7.97 ERA. Is it ineffectiveness or hitting a wall, with a major-league high 124 innings? He has reached139 innings as a minor-league high and at least 118 a season down on the farm over the last four years, so one might think he should have more endurance than this.
''Minor-league innings, that is [crap],'' Guillen said. ''That is nothing. Minor-league innings compared to here [in the big leagues], I think it's double because you have to grind it out every pitch. In the minor leagues, you get away with two, three, four guys in the lineup, and you mess around. In the big leagues, every pitch, you got to be on it.
''But he threw the ball good [Thursday], especially the way those guys were hitting. The last time [against the Boston Red Sox], he hit the wall [after holding the Sox to one hit through four innings]. [Thursday], he threw the ball pretty good.''
The White Sox will give Humber every chance to snap out of his slump to see if he can be a legitimate option for next season, but if the White Sox fall out of the race and Humber continues to skid, Sale may yet make it into the rotation.
For more baseball news, rumors and analysis, follow @cbssportsmlb on Twitter or subscribe to the RSS feed.