By C. Trent Rosecrans
You've seen the video… and if you haven't, well, you must:
The NuttyBuddy may be able to take a direct shot from a pitching machine, but Marlins catcher John Buck says he's broken two this year alone. That said, a broken piece of plastic is better than a broken... well, a ball to the... OK, you know...
Saturday night, Chris Carpenter fouled off a bunt attempt in the sixth inning of the Cardinals' 2-1 victory that bounced off the ground and straight up into Buck's… NuttyBuddy.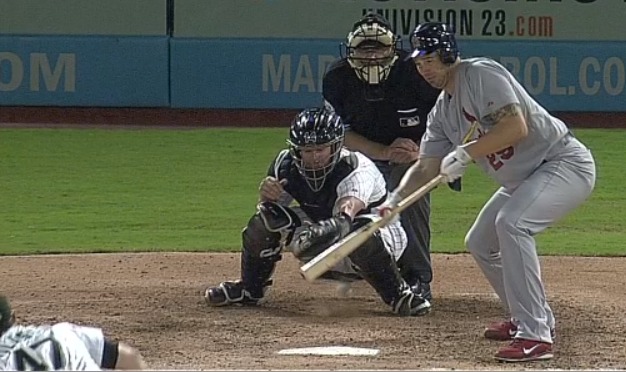 "I felt like I was gonna throw up," Buck told Joe Capozzi of the Palm Beach Post. "That hurt really bad."
Yeah. I bet.
Buck didn't realize the cup cracked until he was talking to reporters before Sunday's game and noticed a crack.
"Broken cup number two," he said.
He also broke a cup in May in Cincinnati when he was hit by a Josh Johnson fastball -- Johnson signed the cup and Buck put it in his trophy room.
Buck stayed in the game Saturday, but is getting a regularly scheduled day off Sunday.
After May's incident, Buck was still a fan of the NuttyBuddy -- "I think it saved me [in May]," Buck told Tom D'Angelo of the Palm Beach Post days after the first incident. He said after he got his cup broken last year when a member of the Blue Jays, their clubhouse guy said Rod Barajas used the NuttyBuddy and suggested Buck try it.

Now Buck's a believer. And a survivor.
For more baseball news, rumors and analysis, follow @cbssportsmlb on Twitter or subscribe to the RSS feed.