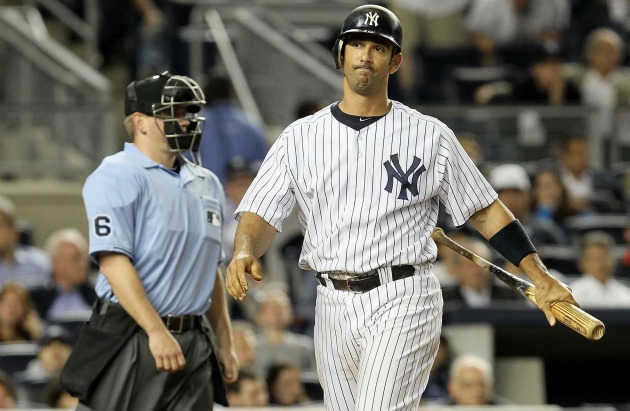 By C. Trent Rosecrans
Jorge Posada may not have a Willie Mays falling-in-the-outfield moment to end his career -- but at least Mays was on the field. Posada may spend the last two months of his career on the Yankees' bench. Yankees manager Joe Girardi told Posada that he was no longer going to be used as the team's designated hitter against right-handed pitchers.
Sunday night the Red Sox sent right-hander Josh Beckett to the mound and instead of Posada, Eric Chavez was in the DH spot. Chavez and Andruw Jones will share that duty -- which was Posada's only defined role until now.
"[Girardi] said he was going to put the best lineup on the field and he doesn't know when I'm going to DH again," Posada told Mark Feinsand of the New York Daily News. "So right now I'm sitting on the bench."
Posada said he was "very disappointed" with his new role.
"I'm not happy about it, but right now I can't do nothing about it," Posada said. "I put myself in this situation. I've just got to keep on working."
Posada will turn 40 later this month. He's hitting just .230/.309/.372 in 317 plate appearances this season with nine home runs and 31 RBI. He's hitting a more respectable .263/.340/.438 against right-handers, with all of his homers against righties.
Chavez is hitting .323/.389/.431 with one home run and 13 RBI in 72 plate appearances and Jones is hitting .233/.331/.440 with seven homers and 22 RBI in 133 plate appearances.
"We're going to see how this works," Girardi told reporters, including Feinsand. "We're going to try some different things. We'll see how this works, and I told Jorge, 'You're still going to be a big part of this, and we're going to need you. We're just going to do some different things.'"
It's unclear what Girardi "needs" of Posada, but I'm sure he can help pick up the cups that accumulate in the dugout at the end of the game, make sure the different flavors of gum and sunflower seeds don't get mixed up and keep Alex Rodriguez from creeping out Minka Kelly.
For more baseball news, rumors and analysis, follow @cbssportsmlb on Twitter or subscribe to the RSS feed.