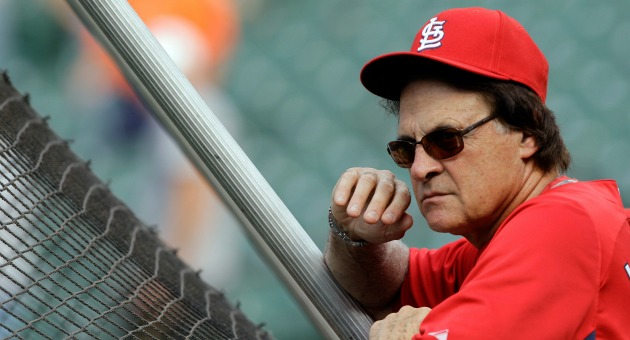 By Evan Brunell
Let's dive right into it. Tony La Russa doesn't think he plays head games with opponents. Right.
"I think the opposite is the reputation I've established," La Russa told CBSSports.com's Danny Knobler and other reporters after a spate of recent incidents involving La Russa have caused the issue to boil over. "I've had a number of times to play that -- tricks and [cheap shots] -- and we don't ever get into it. I trust our players, and I have for a long time."
Except that tricks and cheap shots are La Russa's kingdom, with the Brewers the latest target. The Brewers Bar lays out La Russa's complaints over the years.
Last week, La Russa complained about the ribbon board at Miller Park, home of the Brewers, to the umpires. He also called Brewers fans "idiots" after a Milwaukee pitcher dared plunk Albert Pujols. He said that the ribbon board shines brighter when the Brewers are at bat. The manager also got upset earlier this season when Reds broadcaster Marty Brennaman called starting pitcher Chris Carpenter "a whiner and an excuse maker." There are plenty of other incidents in past years, which you can read about here, such as complaining about slick baseballs, or the bullpen mound not being uniform to the mound on the playing field.
But nope, La Russa says that head games and complaining aren't his forte.
"I trust our players. Somebody has an issue, whether it's [saying that] the balls are slick in Cincinnati or whatever, and it's guys like John Smoltz and Chris Carpenter, I don't say, 'You've got to be kidding me. Who are you to complain?' When you've established what they've established ... I trust our players. If you trust your players, you're responsible for following through with it. That's what I do. But the people who know me, I shy away from that stuff, because the game is supposed to be played between the white lines, so you try to avoid it at all costs."
"I think it's just the nature of, if you look around, the nature of the game," he added. "If both clubs are competing, it doesn't have to be, but once in a while, you have some sparks. And you can have two clubs that are having a tough year. You can have a club that's having a good year and [one having] a tough year. I think the whole key is just a competition. If both sides care, they always believe their side of it, you know?"
Not much else to add here. Frankly, La Russa over the last few years has evolved into a curmudgeon who stirs up trouble, thinks a little too much of his baseball genius (to be fair, La Russa has been a fantastic manager and helped evolve the game with his bullpen usage) and runs talented young players (Colby Rasmus) out of town.
For more baseball news, rumors and analysis, follow @EyeonBaseball on Twitter or subscribe to the RSS feed.