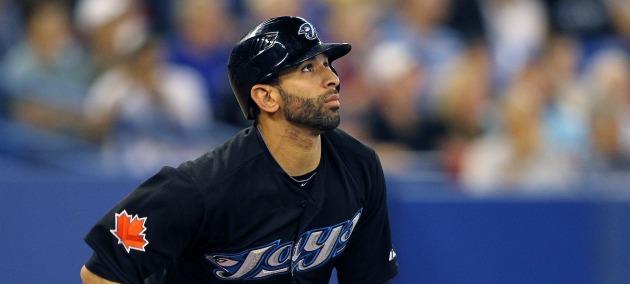 By Evan Brunell
The Toronto
Blue Jays
stand accused of stealing signs by utilizing a man dressed in a white shirt out in the bleachers,
ESPN Magazine
reports.
During a 2010 game early in the season, the
White Sox
's bullpen noticed a man dressed in white 25 yards to their right raising his hands every time there was an offspeed pitch. They examined his patterns and figured out he was trying to tip the batter off as to what pitch was coming, four sources from that bullpen revealed. While they couldn't figure out how the man was getting the information on the pitches, the correlation was too strong, which was backed up the next day when the players stood at home plate and on the mound to see how visible the man would have been to the batter. They found that without the batter even needing to move his head or change the direction of his eyesight, the man would clearly have been visible.
"It's premeditated," one of the AL players said, "as if the guy was a sniper trying to find the best position to make a shot."
When the bullpen noticed the man giving signs, they called into the dugout to warn the rest of the team. For the rest of the game, Chicago used multiple signs even with the bases empty and made their displeasure known to
Jose Bautista
the next inning.
"It's not too [f------] easy to hit home runs when you don't know what's coming!" the player yelled at Jose Bautista (pictured). The slugger, who hammered 54 home runs in 2010 after a previous career high of 16, confirmed the argument. "We know what you're doing," the anonymous player added. "If you do it again, I'm going to hit you in the [f------] head."
Bautista unsurprisingly denied any knowledge of stealing signs.
"First of all, I don't even know how you can do that," he said. "And second of all, it's obviously something that's not legal in the game. We do not cheat."
Catcher
J.P. Arencibia
also denied the reports, taking to Twitter to do so.
"Just read the dumbest article on ESPN about us getting signs?"
he tweeted
. "I'm hitting 200 and we get signs at home, that makes sense? #clowns." A
followup tweet
added, "Teams/pitchers need to accept when we kick their ass in the rogers centre n not give excuses... Looks like we had verlanders signs #nohitter."
However, the man in white departed his seat after the incident. That doesn't mean there's a link to stealing signs, but the evidence has been piling up against Toronto. Some players on that same team noticed the same man signaling during the last series of the season in Toronto back in 2009, so the team passed on doing anything about it. It's not the first, nor the last, time that teams have been suspicious of Toronto, though.
One of the players told
Yankees
' outfielder
Curtis Granderson
to be on the lookout for the man in white, but Granderson was unable to sight anything during a game where he served as DH and monitored the outfield while the Yankees were on the field. Still, New York started taking precautions by using multiple signs to signal for a pitch even when men are not on base. The
Red Sox
were also sighted using multiple signs during a June game earlier this season.
"Could be," manager Joe Girardi said when he was asked if the Blue Jays were stealing signs from outside the field. Obviously, if you feel like it's coming from somewhere else besides a player on the field, yeah, I do have issues with that."
Statistical information does bear out a possible unnatural advantage at Rogers Center, with Baseball Prospectus' Colin Wyers, showing statistical deviations that Wyers believes is too significant to be random chance.
Wyers compared performances by players in Toronto with that player's performance in all other parks, finding that Rogers Centre added .011 home runs to a player's production, making the stadium one of the top three percent of home-run parks since 1950. This is up from .002 from 2005 to 2009.
Oh, and only the Blue Jays benefited as their home run on contact rate was 5.4 percent at home, compared with four percent on the road and an AL average of 3.6. To be sure, some of these home runs were due to Bautista's breakout, a resurgent season from
Vernon Wells
, and more -- but another curious aspect is that many Toronto hitters in 2010 exhibited massive home/road splits -- including Bautista and Wells. Despite a poor on-base percentage of .312 (fifth-worst in baseball), Toronto was able to score the ninth-most runs in baseball with 755 on the backing of the highest isolated power (slugging percentage minus batting average) of a team since 1954. The flip side is that the Jays only batted .269 on balls in play, the lowest in baseball by far.
"Major League Baseball has never received a complaint from any club about sign stealing in Toronto, and this is first [we've been] made aware of it," a MLB spokesperson said.
The ESPN report by Amy Nelson and Peter Young is damning, but as is written:
By themselves, these numbers are circumstantial evidence. Unsupported by data, the four players' accounts might describe a scheme of uncertain impact. And without proper context, the Yankees' decision to mask their signs could be chalked up to paranoia. But together, the numbers, the stories and the actions indicate one certainty: Every pitch to a Blue Jay in Toronto is worth watching.
GM Alex Anthopoulous, who will speak about the topic in further detail at 3:45 p.m. on Wednesday, denied any sign-stealing to the magazine. "That never happened, will never happen, not even a possibility," he said . "If it did happen, we'd be winning a lot more games at home … I think it's a nonstory because no one ever has picked up the phone and called me about it. It's never been an issue, and I would expect them to do so if it was."
For more baseball news, rumors and analysis, follow @EyeonBaseball on Twitter or subscribe to the RSS feed.