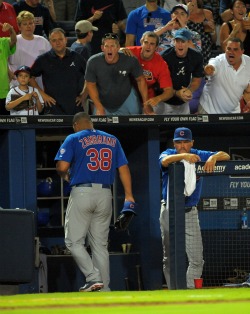 By C. Trent Rosecrans
Carlos Zambrano
is again threatening retirement, and apparently the
Cubs
hope he follows through.
"We will respect his wishes and honor them and move forward," general manager Jim Hendry told Gordon Wittenmyer of the Chicago Sun-Times.

It's a wonder he could get that out with a straight face and without giggling -- Zambrano leaving under his own accord could allow Hendry to have done what he couldn't do himself, get rid of the albatross in his clubhouse and on his payroll.

The Cubs have been in contact with Zambrano's agent, Barry Praver, according to Paul Sullivan of the Chicago Tribune. Sullivan reports Zambrano has not yet filed retirement papers, but if the matter isn't resolved by this afternoon, the team will place Zambrano on the restricted list.
Manager Mike Quade was also unhappy with Zambrano, who cleaned out his locker and talked about retirement after being ejected in the fifth inning of Friday's loss to the Braves for throwing at Chipper Jones.
By the time the media was allowed in the clubhouse, not only was Zambrano and his stuff gone, so too was even the nameplate on his locker.
"He walked out on 24 guys that are battling their ass off for him," Quade told reporters after the game, including Wittenmyer. "I don't know where he's gone or what he's doing. I heard he's talking about retiring. I can't have a guy walking out on 24 guys, that's for damn sure."
Zambrano has one year worth $18 million left on his contract and a no-trade clause.
Last year the Cubs stood by Zambrano (in no small part because of the amount of money left on his contract) after he started a fight in the dugout with Derrek Lee and was sent to anger-management counseling and even welcomed back. This season he'd pitched better, but still grumbled about the team this year, calling it a "Triple-A team," but at least including himself in that rant.
On Friday, though, he may have burned his last bridge. Or, with the thought of giving up more than $20 million left for this season and next, he'll come back and the Cubs will accept him because they have very little choice not to. Either way, it's going to be interesting this afternoon when Cubs players start filing into the clubhouse at Turner Field for the 7:10 p.m. game against the Braves. There will certainly be a few people hoping Zambrano doesn't walk through the door and isn't in the dugout come gametime.
For more baseball news, rumors and analysis, follow @eyeonbaseball on Twitter or subscribe to the RSS feed.