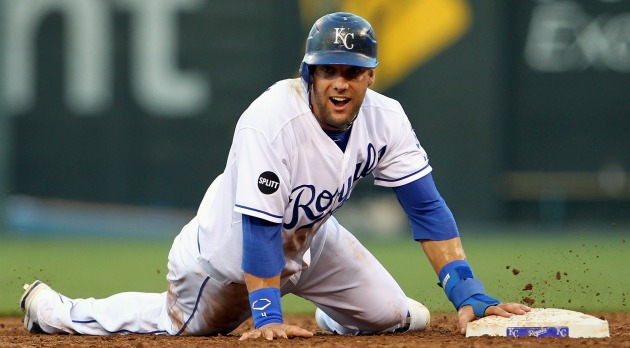 By Evan Brunell


STAY OR GO:
Alex Gordon
's had a long, tough road in Kansas City. He arrived in town with expectations of being the next George Brett, and struggled to reach those expectations while adjusting to the major leagues. For a few years there, the third baseman was looking like a colossal bust, but he switched to left field and broke out this year at age 27 and has had a fantastic year leading off.
Gordon isn't a free agent until after 2013, but is already eager to sign a long-term extension to stay a Royal.
"Staying here?" Gordon told the
Kansas City Star
. "Heck, yeah. I love it here. I love the guys here. I love being close to home. I love the fans. I love everything about this place."
Gordon noted that the team and GM Dayton Moore has already indicated they want to wait until after the season to discuss a long-term deal. Making just $1.4 million, that number is sure to rise, if not double, through arbitration. The
Royals
may want to wait another season to see if Gordon's newfound production is real, even if it's at the risk of a spiking salary through arbitration. There's no real rush here -- Kansas City's payroll started the year under $40 million after cracking $70 million the last few years. With that kind of flexibility at hand and no massive contracts due anytime soon, the Royals may want to exercise their flexibility to gauge Gordon for another season.
Working in Gordon's favor is that he's ready to help immediately and can be a linchpin of the team's transition to a young crop, which doesn't include a deep outfield. Lorenzo Cain appears ready to take over center field and Wil Myers is developing nicely in the outfield after transitioning from catcher and should be in the majors within a year or two, but that's about it. K.C. drafted outfielder Bubba Starling, who has yet to sign, but even if he does, his outlook is so far away it shouldn't have any impact on Gordon's possibilities to stick with Kansas City.

WAIVER WIRE
: A development on the waiver wire is that left-handed relievers are having a heck of a time clearing waivers, which is no big surprise when you consider that the big dogs of the
Red Sox
,
Yankees
,
Phillies
and other contenders are on the hunt for such help. (
Boston Globe
)
REHABBING A-ROD
:
Alex Rodriguez
participated in a simulated game on Thursday, taking 13 at-bats and playing three innings in the field. He's currently slated to return to the Yankees on Thursday. (
New York Post
)
PLAY OR SIT
:
Magglio Ordonez
's time as a productive hitter is winding to an end, and he's mired in a deep slump thus far in August, dragging his batting average to .223. Manager Jim Leyland isn't ready to sit Ordonez entirely, but did admit that he will pick and choose which pitchers Ordonez will face. (
Detroit Free Press
)

NEW MINDSET
:
Carlos Pena
may not be around to see it, but he knows what his club needs to do to move on -- adopt a new mindset, freeing the
Cubs
from the same old malaise. "It's just viewing ourselves in a different light, wearing the uniform with pride, just all those personal things that (should be) ingrained in us," Pena told
CSNChicago.com
.
BACK IN OAKLAND
:
Athletics
manager Bob Melvin says if he returns to manage the team in 2012, he wants DH
Hideki Matsui
back. That's easy to say, when Matsui has been scorching hot since the All-Star break, but it's instructive to note that even with the hot streak, Matsui's overall line is .264/.338/.408. (
San Francisco Chronicle
)
CARD WARS
: Topps and Leaf are embroiled in a legal battle over baseball cards, as Leaf is using Topps baseball cards to promote a new line of cards from Leaf. If you buy a "2011 Best of Baseball" set from Leaf, you receive one new, original Leaf card as well as a bonus card, which is turning out to be iconic Topps cards. (
TMZ.com
)
BAUER POWER?
Jason Marquis
is out for an extended period of time after fracturing his shin in Sunday's start. There's speculation that Trevor Bauer, who was drafted this past June, could potentially replace Marquis. (
Arizona Republic
)
CLEARED
: Royals catcher
Matt Treanor
has passed the last hurdle in his recovery from a concussion and can now return to game action. A rehab stint in the minors is likely. (
Kansas City Star
)
For more baseball news, rumors and analysis, follow @EyeonBaseball on Twitter or subscribe to the RSS feed.