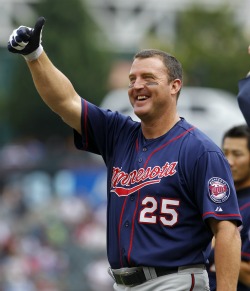 By C. Trent Rosecrans
Jim Thome's now the eighth member of the 600 home run club, but as we've discussed many times, that club is less celebrated now than it used to be because it includes the likes of Barry Bonds, Alex Rodriguez and Sammy Sosa.
All three of those players have been attached to allegations of performance-enhancing drugs, while Thome hasn't. But Thome, along with Ken Girffey Jr., have achieved their 600 home runs during the so-called steroid era. Thome, speaking on the Dan Patrick Show (via SportsRadioInterviews.com), said all players from this era will live with a cloud of suspicion, including himself.
"I've said this and I've been very open about this, I think what has happened is there have been a lot of guys to pay the price," Thome said. "My thing was not every guy in that era did it and not every guy has done it. There were guys in our time that did it the right way. I think that has maybe been the effect on today's game as far as people have a hard time saying 'did this guy do it? Did this guy do it?' There's always going to be that question mark no question."
Thome was then asked if he would question Jim Thome and his accomplishments.
"Sure. I mean yeah absolutely," Thome said. "Again you're kinda guilty by association in an era, in a time when guys did it. That's what feels so good. I talk to you about the journey, the journey to get there and what it took to get there and the people that worked with you and how hard you worked to get there."
And Thome's right. Look at any accomplishment these days and they will be questioned -- whether it's Thome's 600 home runs or Jose Bautista's turnaround -- people are going to start talking about steroids or HGH. Thome's smart enough to know that and smart enough to acknowledge it.
For more baseball news, rumors and analysis, follow @eyeonbaseball on Twitter or subscribe to the RSS feed.