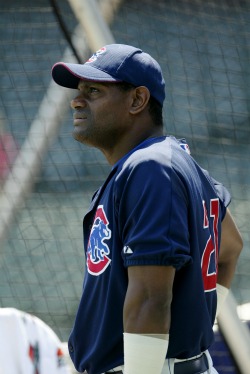 By C. Trent Rosecrans
Of all people to be giving Carlos Zambrano advice, Sammy Sosa may not be the best.
That said, Sosa's advice for Zambrano through MLB.com's Carrie Muskat isn't that bad. The gist, don't retire because the money is too good.
"I see a lot of players make all their money in baseball and when they retire it's a mess," he said. "They surround themselves with some bad people. There's so many bad people outside waiting to get their money.
"That reaction [on Friday] cost [Zambrano] $3 million," Sosa said. "Maybe he doesn't need it now, but later on he will. That's money he worked hard for all his life."
Sosa also said a lot of his friends waste their money and have to go into coaching because "they don't know how to do anything else."
Zambrano, 30, is in the fourth year of a five-year, $91.5 million contract and is owed $18 million for 2012. Still, most in or around the Cubs organization seem to have zero interest in Zambrano returning to a Cub uniform.
Zambrano is 9-7 with a 4.82 ERA this season -- the highest ERA of any full season in his career. But the right-hander has enough talent that he'll be able to find a job pitching somewhere, even if there are justifiable concerns about his mental stability and the way he'll fit in to a clubhouse. Of course, he'll have a hard time finding anyone to give him near $18 million a year again or a long-term deal of any sort.
Zambrano has made repeated statements that he plans to retire after his current contract runs out and just last week threatened retirement after being thrown out of a game against the Braves. He is currently on the disqualified list and not being paid.
For more baseball news, rumors and analysis, follow @eyeonbaseball on Twitter or subscribe to the RSS feed.