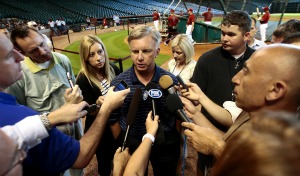 By C. Trent Rosecrans
Jim Hendry is the first general manager out heading into this offseason, but it's unlikely he'll be the last. What other GMs could be on the move?

Here's five possibilities ranked from most likely to least likely:
1. Ed Wade, Astros: A new owner often means a new general manager, and if the sale to Jim Crane ever goes through, Wade can expect to find himself on the way out with current owner Drayton McLane. Not only do the Astros have a shot at a historically bad season, there's little hope on the way. That said, Wade did get a nice haul for Hunter Pence, but Pence was still under team control for two more years. The trade of the team's best player wasn't a popular one.
2. Andy MacPhail, Orioles: Hendry's predecessor with Cubs hasn't had much success in Baltimore, either. MacPhail has the title of "President of Baseball Operations" but is in effect the general manager… for now. MacPhail was hired in June of 2007 and since he's taken over the team has gone 285-413 and lost at least 90 games in each of his three full seasons at the helm and the team is on track to reach that mark again.
3. Jack Zduriencik, Mariners: Zduriencik made a splash in his first season as Mariners general manager, putting together a team that surprised everyone by going 85-77. As good as 2009 was, 2010 was a disaster. Zduriencik was praised by many (myself included) for his offseason moves leading up to the 2010 season, but the Midas touch was gone. The signing of Chone Figgins and trade for Milton Bradley turned out to be disasters, while Ken Griffey Jr. clashed with manager Don Wakamatsu and retired mid-season. The Mariners started 2011 off well, but since their last day at .500 on July 5, the Mariners have gone 10-16 and went from 2 1/2 games out to 18 games behind the Rangers in the American League West. Furthermore, Zduriencik angered many in the organization after denying knowledge of the criminal past of reliever Josh Lueke, who was part of the Cliff Lee deal last year.
4. Neal Huntington, Pittsburgh: Speaking of former darlings, Huntington was the toast of baseball at the All-Star break. The Pirates appeared to be on track to end their string of 18 consecutive losing seasons. Since sitting alone in first place atop the NL Central on July 19, the Pirates have gone 7-20 and sit 14 games back just a month later. There were rumors that Huntington was close to an extension earlier in the season, but recent events could mean instead of a raise for 2012, Huntington is looking for a new job.
5. Brian Cashman, Yankees: While the others on this list may be getting pink slips, Cashman could decide to leave on his own. Former owner George Steinbrenner was infamous for his quick temper and firing employees, but his sons' signature move so far was the undermining of Cashman by signing reliever Rafael Soriano after Cashman said the team had no interest in the former Rays' closer as a setup man for Mariano Rivera. Cashman had a rough offseason with the negotiations with Derek Jeter and Rivera, and could also look for a new challenge to show that he's not been successful only because of the Yankees' deep pockets. Basically, he could be sick of being the GM of the Yankees and decide to move on.
For more baseball news, rumors and analysis, follow @eyeonbaseball on Twitter or subscribe to the RSS feed.