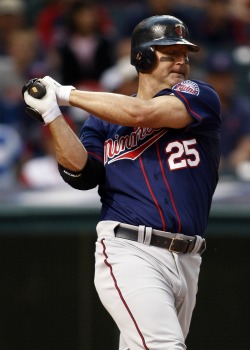 By Evan Brunell

The
Phillies
have been on the hunt for a pinch-hitter to help do damage off the bench down the stretch drive and into October. If all breaks well, Philadelphia will then need that pinch-hitter to DH during the Fall Classic.
That person could be
Jim Thome
, who had been linked to Philadelphia earlier this season along with
Jason Giambi
. When Thome went nowhere at the trade deadline and Giambi hit the DL, Philadelphia signed Jack Cust to a minor-league deal after being released from the
Mariners
, but he's only an option, not the answer.
Minneapolis Star-Tribune
baseball writer LaVelle E. Neal III, via the
Philadelphia Daily News
, reported he's heard "indications [
Twins
management] would be willing to accommodate" Thome if he wanted to move to a team with a chance to play in October. Given it's entirely possible this could be Thome's final season, the slugger could ask for such a move. It wouldn't be the first time Thome's moved to the NL to come off the bench, as he agreed to play for the
Dodgers
down the stretch in 2009, after being moved from the
White Sox
. While Thome was careful to choose his words when asked about the possibility of asking for a trade, the first baseman and DH offered up all you need to know.
"When you've gone to two World Series and you haven't won it, it eats at you and that's one thing that is still there," Thome said.
Despite playing for Philadelphia for just three years before the arrival of
Ryan Howard
, Thome holds special importance in the city. He is very close with skipper Charlie Manuel and helped change the perception of the Phillies as a down-and-out team when he joined them as a free agent after the 2002 season. When he was later dealt to the White Sox for a return of
Aaron Rowand
,
Gio Gonzalez
(who later fetched
Freddy Garcia
before the 2007 season) and a minor-leaguer, the move was credited for helping Philadelphia begin the most successful chapter in Phillies history.
It's not clear if Philadelphia will look to add Thome, but if so, it will have to happen on or before Aug. 31, the day that teams must set the pool of players they can draw from for the postseason. Of course, other teams in the postseason hunt in need of bench help could also chase Thome. The
Yankees
could upgrade their DH spot with Thome, while Atlanta, Milwaukee and San Francisco would love to use Thome in the same capacity Philadelphia would.
For more baseball news, rumors and analysis, follow @EyeonBaseball on Twitter or subscribe to the RSS feed.