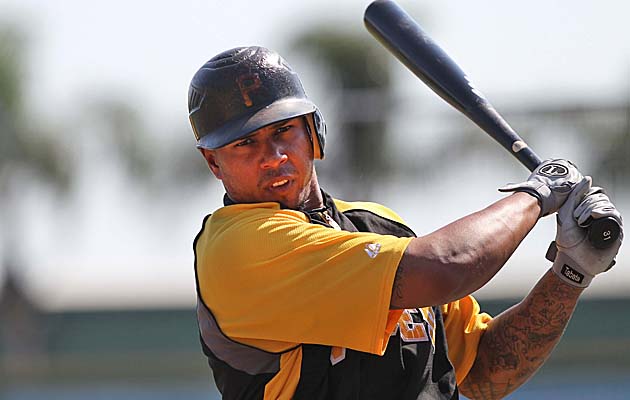 By Matt Snyder
The
Pirates
announced Sunday that they agreed to terms with outfielder
Jose Tabata
. He'll be paid $14 million over the next six seasons, with options that could keep Tabata in Pittsburgh through 2019 (
Associated Press
). The deal buys out the remaining three years of arbitration, but that's not the important part -- which is that the Pirates made a long-term commitment to a young player.
Tabata, 23, has a .356 on-base percentage with 15 stolen bases and 44 runs this year in 75 games, serving mostly as the leadoff man.
He is certainly no
Andrew McCutchen
and he's been signed for a pretty cheap deal, but the signal is the same as it was when the Pirates were buyers at the trade deadline: These Pirates aren't a laughing matter anymore. No longer is ownership content to simply be a virtual Triple-A team, developing players only to have them traded or leave via free agency. When they lock up McCutchen, which I fully expect, the signal will be even louder. Granted, the Pirates will never be a large-market spender, but the increased attendance this season shows the fans are still there, should the team become a legitimate contender. Expect the Tabata deal to be the first of several.
Strasburg Watch:
Nationals
ace
Stephen Strasburg
will make his fourth rehab start Monday. He'll pitch for Class-A Hagerstown again, where he was shelled last time out. He was dominant in his first two outings, however, so Monday will be a good gauge to see if that was simply an off-day. He's going to be working toward four innings and 65 pitches (
Nationals Journal
). That's a huge sign, because from 65 pitches, a lot of pitchers jump to 80 next time. Presumably, 80 pitches is enough to get back to the bigs. Strasburg is scheduled to have a fifth rehab start August 27, but if everything goes well in these next two outings, that's likely all he'll need before joining the Nats.
Joe on A.J.:
Yankees
manager Joe Girardi and struggling starting pitcher
A.J. Burnett
appeared to exchange some pretty heated words Saturday night, but both Girardi and Burnett said the issue was Burnett's anger at the home plate umpire. Girardi reiterated that sentiment Sunday, but also noted Burnett is on shaky ground due to his pitching performance. "The reality is he needs to pitch better," Girardi said (
New York Times baseball blog
).
Pronk injured:
Indians
designated hitter
Travis Hafner
broke an 0-for-16 slump with a single late in Sunday's game, but when he rounded first base, he pulled up lame and limped his way to getting tagged out and back to the dugout. He has a right foot strain, which is a similar injury to one that kept him out for five games earlier in the season (
MLB.com
).
Time for revenge:
It's been a while since the
Rangers
and
Red Sox
played. In fact, it was the first series of the season. Many of us may have forgotten the Rangers kicked the Red Sox teeth in for three games, sweeping them and outscoring them 26-11 in three games. It's the only team the Red Sox have played this season and not beaten. Reliever
Daniel Bard
certainly hasn't forgotten, though, as he said "we owe them something for the first series of the year," Sunday (
BostonHerald.com
). The two teams square off for a four-game series in Texas, beginning Monday.
Winded Grandyman:
Yankees center fielder
Curtis Granderson
hit an inside-the-park home run at Minnesota Sunday, and he was a bit tired after the trip around the bases. "It was good until everyone wanted to talk," Granderson said (
LoHud
). " As we're coming in, everyone was asking about it, and I couldn't really talk too much."
Action Jackson:
Tigers
center fielder
Austin Jackson
ended Sunday's game by throwing out the would-be tying run at home plate. A game-ending double play scored 8-2 hasn't happened since 1988 when Pirates center fielder Andy Van Slyke pulled it off, according to
Baseball-Reference.com
.
Swarzak in, Blackburn out:
Twins
starting pitcher
Nick Blackburn
injured his right forearm early in his start against the Yankees Sunday, and it looks like he's headed for the disabled list, as the Twins have already named a replacement in the rotation.
Anthony Swarzak
will get the spot (
Around the Majors
). Swarzak is 2-2 with a 3.16 ERA and 1.05 WHIP in five starts this season.
Love for Hendry:
Recently-fired
Cubs
(former) general manager Jim Hendry has been beaten down pretty good in terms of fans, message boards, Twitter, etc. But you rarely hear anything bad about him as a person from his own players, media who know him personally or even opposing players. Former Cubs shorstop
Ryan Theriot
-- who Hendry traded last season -- joins in, calling Hendry a good person who has a good heart (
Chicago Tribune
).
Leyland tossed again:
Tigers manager Jim Leyland had a pretty nice ejection Sunday, marking the fifth time in the past two months he's been run. The
Detroit Free-Press
has a list of the five ejections.
On this date:
Mark McGwire made his big-league debut 25 years ago today. (
Hardball Times
)
Oh, Nails:
Former
Phillies
and
Mets
outfielder Lenny Dykstra is currently serving time in prison because he filed for bankruptcy and then tried to sell off part of his estate for profit -- which is otherwise known as embezzlement -- and was also accused of lying under oath and trying to hide some of his assets from the bankruptcy court. Apparently, however, Lenny doesn't believe the law applies to him because he was good in the 1993 World Series. Seriously:
Read his post by clicking here
and let me know if I'm wrong, but I believe that's kind of his argument -- warning, the post has the grammar and spelling of an eight year old. The best part is that Dykstra is delusional enough to believe he's been targeted by a government that wants to redeem itself for the O.J. Simpson case by nailing a celebrity. I mean, you can't make this stuff up. It's amazing.
For more baseball news, rumors and analysis, follow @EyeOnBaseball on Twitter or subscribe to the RSS feed.