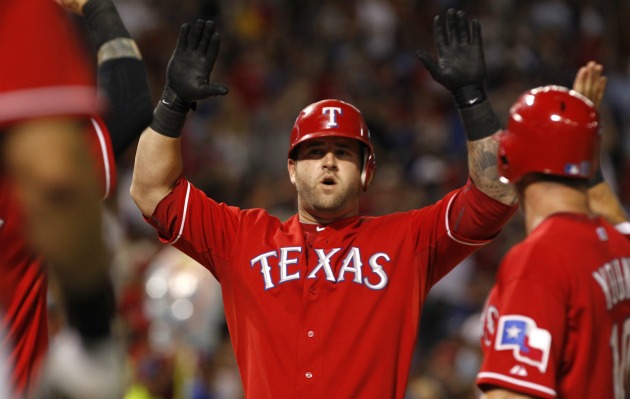 By C. Trent Rosecrans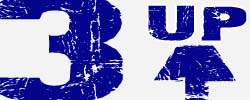 Mike Napoli and C.J. Wilson, Rangers: These two love to play against the Red Sox. Napoli has homered in each of his last four games against Boston, including a three-run shot in Monday's 4-0 victory over Boston. Wilson started for the Rangers, allowing just four hits over 6 2/3 innings, striking out four with Koji Uehara, Mike Adams and Neftali Feliz not allowing a hit over the rest of the night to cement Wilson's 13 win of the season. Wilson is now 4-0 with a 1.62 ERA in five starts against the Red Sox.

Cliff Lee, Phillies: Lee improved to 4-0 in August with just two earned runs with 32 strikeouts in 31 innings this month, which is just his second-best month of the season after a 5-0 June, allowing just one inning. On Monday, he threw seven shutout innings, giving up three hits. His seven strikeouts gave him 191 for the season, setting a career-high in Ks with a month left to go in the season. Last season he struck out 185, his previous best.
Dan Uggla, Braves: Much has been made this season of Dan Uggla's struggles at the plate -- and it's true, his average stats are down -- he's hitting .232/.300/.461 -- each at least 25 points lower than his career numbers in those stats. However, he hit his 30th home run of the season, marking the fifth straight year he's accomplished the feat. No other second baseman in history has had more than three 30-homer seasons. Uggla seems to be on track to set a career-high in homers, his previous best was last season when he hit 33. He has 184 home runs in his six years in the big leagues.
---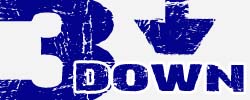 Mike Quade, Cubs: Quade did the right thing benching shortstop Starlin Castro for Monday's game after his mental lapse was caught on camera during Sunday's game against St. Louis. But Quade didn't come out and say he benched him for the incident, instead he went with the "mental day" excuse. With Quade's future as the Cubs' skipper in doubt, he could have sent a message -- and he inadvertently did, a message of weakness.
Tony La Russa, Cardinals: Classic La Russa overmanaging struck again on Monday -- as La Russa took out starter Chris Carpenter with 99 pitches after Carpenter opened the ninth inning by hitting Juan Rivera. La Russa brought in left-hander Arthur Rhodes to face Andre Ethier and Rhodes responded by striking him out. But then he took out Rhodes in favor of the right-handed Fernando Salas to face switch-hitting Aaron Miles, whose career stats are more or less even from each side of the plate. Miles tripled to tie the game and then scored on a fielder's choice in the infield, giving Los Angeles a 2-1 victory in St. Louis.
Chris Perez, Indians: We'll just let Perez speak for himself here:

The Indians closer took the loss, hitting the first two batters of the inning, picking up an error and walking another. He gave up the winning run on a sacrifice fly by Franklin Gutierrez. With Cleveland's loss and Detroit's win, the Indians are now tied with the White Sox for second in the AL Central, 5 1/2 games behind the Tigers.
For more baseball news, rumors and analysis, follow @cbssportsmlb on Twitter or subscribe to the RSS feed.