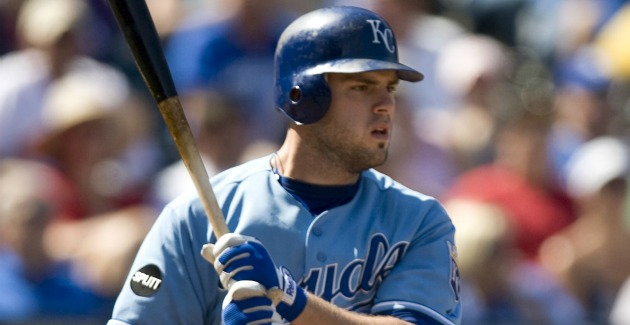 By Evan Brunell

GETTING HOT
:
Mike Moustakas
didn't find the major leagues much to his liking in the early going, but things have turned around thanks to a recent tear that's lifted Moose's batting average to .206.
That's an accomplishment when it was at .182 mere days ago. Over the last five games, the third baseman has collected eight hits in 16 trips to the plate, doing much of his damage against the
Red Sox
who just completed a four-game series with Kansas City.
"Whenever you're going bad," Moustakas told the
Kansas City Star
, "you need those little things here and there to pick you back up, and this homestand kind of helped me out."
Also encouraging from the 22-year-old is the three doubles collected during his five-game hot streak, a display of power that hasn't been around this year. It's taken quite some time for Moustakas to get used to the majors, but the
Royals
have proven to be very patient. Working in Moustakas' favor is that he's struggled at every single new level he's risen, so if history is any indication, he will snap out of his slump in due time.
Moustakas credits his turnaround with working alongside hitting coach Kevin Seitzer to close up his front shoulder more when at the plate. He needed some time to get into a groove with the new stance, but results are starting to show.
"Anytime you change something, it's gonna feel uncomfortable," Moustakas said. "But Seitz told me just stick with it, it's gonna work out. And it ended up working out right now. I'm hitting the ball harder, squaring a little more balls up, so it's paying off."

BEAST MODE
: The
Brewers
have started up a tradition, making hand gestures after a big play that translates to "beast mode." The inspiration came from the movie
Monsters Inc.
and describes what Milwaukee has been up to lately with a 22-3 record in its last 25 games.
"I don't want it getting carried away," manager Ron Roenicke said of the new trend
to the Milwaukee Journal-Sentinel
. "Do I like it? Not particularly. But I don't think I'll say, 'Don't do it.' If I see it getting worse, I'll say no. I didn't like when the
Rangers
did the 'antlers' thing [last year]. If you're old school, you're not going to get along in the game these days."
BEST DRAFT
: It's been a week since the deadline for drafted players to sign has passed. With a few days to digest, Jim Callis came up with the top five drafts, with the
Nationals
heading the list. Also ranking among the top five are the
Diamondbacks
, Red Sox,
Pirates
and
Rays
. (
Baseball America
)
COMPLETE PACKAGE
: The
New York Times
ran a profile on
Miguel Cabrera
, who is one of the best young players in the game. Seriously -- he doesn't seem to be considered a superstar, but maybe he should be, as this factoid suggests: "Only five players in major-league history have had 1,500 hits and 250 homers, while hitting .310 or better, through their age-28 season. They are Jimmie Foxx, Mel Ott, Hank Aaron,
Albert Pujols
and Cabrera."
BEST BALLPARK
: Four teenagers went on a trip, taking in games at all 30 stadiums in 54 days. The best stadium according to the four? Cincinnati's Great American Ballpark -- a quality park, but not one you usually hear as the best. It may have helped that they witnessed a walkoff in the
Reds
game. (
Cincinnati Enquirer
)
LOSING CUBA
: A wave of defections across Cuban sports have recently left a void in Cuba, where sports is not a lucrative field. That's caused many athletes to defect in the aim to compete against higher competition and make more money. To help address the problem, Cuba is finally considering allowing its athletes to play abroad. (
Associated Press, via The Globe and Mail
)
LOOKING BACK
: A year ago this week,
Cody Ross
was claimed off waivers by the
Giants
. The
Padres
were also interested in Ross, but the division leaders at that point declined to put in a claim while San Francisco won his rights. Of course, Ross ended up a postseason hero, while the Padres were frozen out -- but to hear GM Jed Hoyer say it, he would make the same move again. (
Tom Krasovic, Inside the Padres
)
MAKING FUN OF WERTH
:
Phillies
fans have a new favorite pastime, which is making fun of
Jayson Werth
. Still roundly booed for taking a lucrative deal to play for the Nationals, the ex-Phillie felt the "love" during a homestand in which Phillies fans virtually took over Nationals Park. A Philadelphia car dealer got in on the fun, running an anti-Werth ad on Philadelphia sites. (
Washington Post
)

TWEETING TICKETS
:
Jesse Litsch
challenged fans to find him in Wonderland, an amusement park near Toronto. The winner received two tickets to Tuesday's game, but it took until Litsch winning a gigantic Spongebob prize and tweeting about it for him to be spotted. (
Toronto Star
)
MOST HANDSOME SOPHOMORE
:
SI.com has photos from
high school of 28 athletes, and Nolan Ryan and Barry Bonds are among the stars. One one came away with the designation of most handsome sophomore, though -- that being Ryan, who was among the 1965 class.
For more baseball news, rumors and analysis, follow @EyeonBaseball on Twitter or subscribe to the RSS feed.