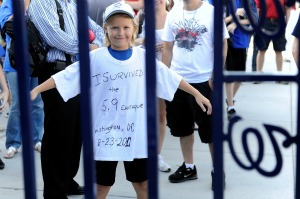 By C. Trent Rosecrans
The Orioles are in Minnesota, so they only heard about today's earthquake -- but the Maryland Stadium Authority isn't taking any chances with Camden Yards, inspecting the Orioles' home after Tuesday afternoon's earthquake, the Baltimore Sun reports.
The executive director of the Maryland Stadium Authority told the paper that he and a structural engineer were checking both Camden Yards and M&T Bank Stadium, home of the NFL's Ravens, on Tuesday. The Ravens have a preseason game against the Redskins on Thursday while the Orioles return home Friday to start a series against the Yankees.
"This is certainly a precautionary measure, but it seems appropriate given the magnitude of the earthquake," Michael Frenz told the newspaper. "There is no reason [to believe] it's not safe, but we have a lot of people coming in, so we want to make sure we're protecting public safety and the real estate asset."
The Nationals delayed Tuesday's game by 20 minutes because of the earthquake, also delaying the opening of the gates while Nationals Park was inspected. Nationals manager Davey Johnson was at the ballpark when the earthquake hit.
"I had my feet up on my desk and I was watching highlights of yesterday's games," Johnson told the Associated Press. "I looked down and my arms started shaking. I said, 'Am I having a tremor here?' And then the table next to me started shaking and I said, 'Oh, earthquake.'"
He was in better shape than the Diamondbacks. Arizona's team bus got stuck in traffic after the earthquake, delaying some players' arrival at the park for hours.
In Philadelphia, Phillies outfielder Hunter Pence tweeted about the earthquake right after it happened:



The earthquake could be felt in New York, but most of the A's players said they didn't feel it.
"it's like a state of panic here," Conor Jackson, a native of Southern California, told Susan Slusser of the San Francisco Chronicle. "They're such rookies."
For more baseball news, rumors and analysis, follow @eyeonbaseball on Twitter or subscribe to the RSS feed.