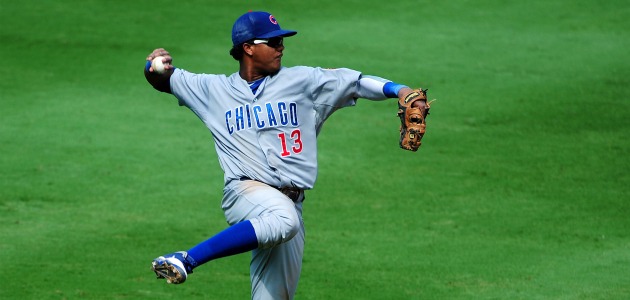 By Evan Brunell

Lighten up
: Much has been made of
Starlin Castro
missing a pitch
in Sunday's game
, with his back to the plate while playing in the field. Understandably, many people -- including ESPN announcer Bobby Valentine -- were outraged, with Valentine excoriating Castro on air.
Also unsurprisingly,
Cubs
players are rushing to Castro's defense, with
Aramis Ramirez
the latest to tell everyone to back off. And Ramirez has a pretty good idea what it may be like to be Castro, who is 21 years old. Ramirez made his big-league debut at age 19.
"People need to realize that he's only 21 -- he's going to make mistakes," Ramirez
told MLB.com
. "He's going to make mental mistakes. ... I made it to the big leagues when I was 19, and I made a lot of mistakes. That's part of [the game]."
Ramirez added that Castro has apologized to the team and everyone's moved on.
"I think [such a big deal was made] because it was an ESPN game, a nationally televised game," Ramirez said. "[But] that stuff shouldn't happen. Starlin would be the first one to tell you that shouldn't happen. Even when you're a veteran, you make mistakes."
Here's the problem, though: Mike Quade had something to say, and it was the wrong thing. Castro was benched Monday in a pretty clear response to his not paying attention to the pitch, but Quade passed it off as a mental day, missing an opportunity to show everyone -- including owner Tom Ricketts, who may fire Quade after the year -- that he's the boss. He missed another opportunity by excusing Castro's behavior for the limelight of being a Cubs player.
"I may agree that too much was being made of it but this is the world we're in and this is the spotlight we're under," Quade said. "You can think what you want, but when you're playing in a market like this at a level like this, you can expect this kind of attention, and you can expect to be under a microscope like this."
Since when did a player's uniform affect attention span? Not paying attention during the game is not paying attention, period.

Back at it
: The next outing for
Stephen Strasburg
will come on Saturday, which will be his fifth rehab start since returning from Tommy John surgery. It's also the first one that will be at a higher level than Single-A, with Strasburg heading to Triple-A, which should allow Strasburg to lock in and focus on executing pitches against advanced competition as he prepares for an early September return to Washington. (
Washington Times
)
Will Wandy go?
Steve Campbell of the
Houston Chronicle
says that how the
Astros
handle the
Wandy Rodriguez
waiver claim situation will go a long way in determining how new owner Jim Crane will handle things. " Is he really about trying try to build things the right way for sustainable success, or is the endgame nothing more than to dump salary for dumping salary's sake?" Campbell writes. "If the Astros do nothing more than a salary dump, however, then fans have reason to be afraid — very afraid — for the future. Houston is too big and too good of a market to become the National League's Kansas City of the South — perpetually turning over the roster with young, cheap players without committing the resources necessary to build a winner."
Best scooper
:
Eric Hosmer
wasn't called up to the majors until May 6, but his 27 scoops at first base (yes, this really is measured) is just one behind
Adam Lind
for most in the AL, while
Carlos Pena
leads baseball with 52. Three additional AL players have 27 scoops. "What I had to learn when I got here," Hosmer told the
Kansas City Star
, "was, when you pick it, you've got to stay through it (with a sweeping motion). You have an imaginary line on where you think the ball is going to bounce. Before, I was just working up and down. Then I learned to go through the ball."
Capping the draft
: There were plenty of big paydays to high school and college players once the dust settled last week on the signing deadline for drafted players. The money is so exorbitant, that it's only deepened commissioner Bud Selig's resolve to introduce a hard-slotting system. But is that good for baseball? (
Kansas City Star
)
Moneyball:
Before long, the blockbuster movie centered around the book that made so many waves in baseball will premiere, with Brad Pitt as A's GM Billy Beane.
New York Magazine
has a great story out about the movie and how it had to jump through hoops to get made... and what, exactly, Hollywood is taking away from
Moneyball
.
Game changed:
But Billy Beane says the game is different these days, and the gap between the big- and low-money teams is even more pronounced, with the window for small markets to compete that much smaller than just a decade ago, as Oakland has been reduced to taking fliers on players as their only options. "Sometimes, you're relegated to buying that lottery ticket," Beane told the
New York Times
. "Anybody will tell you that the lottery is not a great way to invest your money. But sometimes, you don't have a lot of options."
Window closing?
Since the
Cardinals
won the World Series in 2006, they have yet to win another postseason game. With
Chris Carpenter
,
Albert Pujols
and others only getting older and reaching free agency, is it possible St. Louis' window of competition has closed? It seems like it, but how did the window get missed in the first place with strong teams over the last four years? (
St. Louis Post-Dispatch
)

Brave injuries
:
Tommy Hanson
, one of Atlanta's best pitchers, keeps experiencing setbacks while sensation
Jose Constanza
is hobbled by a right-ankle sprain. Constanza is day-to-day and could be back as early as Wednesday, but Hanson is a different story. He threw a nine-pitch throwing session on Monday, the first time throwing from the mound since Aug. 6, but the report was sobering enough that his Tuesday bullpen session was canceled. Hanson will now wait for his condition to improve. (
Atlanta Journal-Constitution
)
The Say-Hey Kid
:
Cameron Maybin
received an honor by spending time at the home of baseball great Willie Mays, and Maybin was understandably bowled over by the meeting. Mays has been impressed with Maybin this season and invited him over when San Diego was in San Francisco before Tuesday's game. The
Giants
said while Mays has been known to go out to dinner with young players, they can't recall an invitation to go to Mays' home ever being extended to a player. "I took him my jersey, signed it for him," Maybin told the
San Diego Union-Tribune
. "Think of that. My jersey's in Willie Mays' house."
Starting Greinke
: The
Brewers
considered delaying
Zack Greinke
's next start so he could face the Cardinals, but manager Ron Roenicke may not go that route. Roenicke believes that Milwaukee should focus on winning every game, while Greinke isn't keen on starting a game on eight days rest. Nothing is decided yet, but the outcome appears obvious. (
MLB.com
)
Web Gems
: Last season, Sam Miller of the
Orange County Register
found an East Coast bias in Web Gems, which may have been in part due to fan voting. This season, though, with tweaked rules, there is no such bias. The top five teams with the most Web Gems in 2011 are the
Indians
,
Rangers
,
Rays
, Brewers and
Royals
.
For more baseball news, rumors and analysis, follow @EyeonBaseball on Twitter or subscribe to the RSS feed.