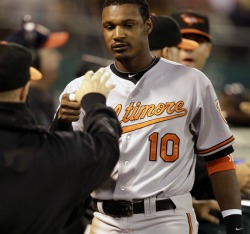 By C. Trent Rosecrans
At one point Tuesday night, there was full-on Twitter panic about Orioles outfielder Adam Jones, who left Tuesday's game with shortness of breath. At one point there was a report that the Orioles called 911 from the dugout, but in the end, it turned out the call was from the stadium, not the dugout and that was just part of stadium protocol in Minnesota.
Jones did go to a Minnesota hospital, but he was released Tuesday night and he's back in the lineup for Wednesday night's game against the Twins.
"Three and a half hours in the hospital and I talked to doctors for 10 minutes and then sat around most of the time," Jones told Dan Connolly of the Baltimore Sun. "I understand the concern the team would have any time players come out of the game not feeling good. I understand the medical side of it, and I am just glad everything is fine."
Jones didn't feel any problems during his first at-bat of the game in the first inning, but then "felt like I was speeding inside my body, but I was standing still," when he was in the field in the bottom part of the inning. He then felt like he was spinning as he sat in the dugout, which prompted the hospital visit.
He also joked that he wanted just one thing -- "I wanted my mom," he said. "I called my mom and said, 'Mommy, come fly to Minnesota and come take care of me.'"
That, apparently, won't be needed.
For more baseball news, rumors and analysis, follow @eyeonbaseball on Twitter or subscribe to the RSS feed.