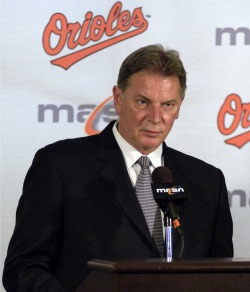 By C. Trent Rosecrans
Former Baltimore Orioles pitcher Mike Flanagan was found dead at his home, the team announced Wednesday, with two local outlets -- WBAL-TV and WNST.net -- reporting that the 1979 AL Cy Young Award winner took his own life.
Flanagan served in the team's front office from 2002-08 and was also a member of the team's broadcast crew. Flanagan was found dead on his property near his home in Maryland.

"It is with deep sadness that I learned of the death of my friend Mike Flanagan earlier this evening," Orioles owner Peter Angelos said in a statement released by the team. "In over a quarter century with the organization, Flanny became an integral part of the Orioles family, for his accomplishments both on and off the field. His loss will be felt deeply and profoundly by all of us with the ballclub and by Orioles fans everywhere who admired him. On behalf of the club I extend my condolences to his wife, Alex; and daughters Kerry, Kathryn and Kendall."
The Baltimore Sun reported that a body had been reported on Flanagan's property on Wednesday afternoon, but a police spokeswoman did not confirm the identity of the body, but did say police had not spoken to Flanagan.
Flanagan, 59, won the Cy Young Award in 1979 and was a member of the Orioles' 1983 World Series championship team. In parts of 18 seasons, Flanagan went 167-143 with a 3.90 ERA. He also pitched for the Blue Jays from 1987-90. In 1979 he went 23-9 with a 3.08 ERA to win the award as the American League's top pitcher.
Flanagan also spent time as a member of the team's broadcast crew and in the team's front office.

"It's just shock right now," former Orioles catcher Rick Dempsey told the Baltimore Sun. "I know everybody that played with him loved him to death. He was the backbone of that pitching staff. He never quit — this guy never quit. He was there for the duration. We had so many great games and so many great times. I just can't believe it."

Orioles pitcher Jeremy Guthrie, who wears the same number Flanagan wore in Baltimore (46), tweeted after he picked up the win against the Twins on Wednesday:



For more baseball news, rumors and analysis, follow @eyeonbaseball on Twitter or subscribe to the RSS feed.