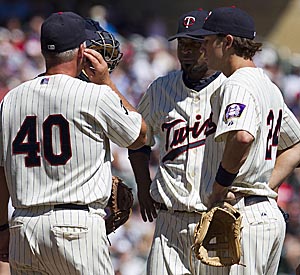 By Matt Snyder
Twins
starting pitcher
Francisco Liriano
left his start
against the
Orioles
Thursday (an eventual 6-1 loss) after just two innings with an apparent injury. After the game, the Twins announced that he will be placed on the 15-day disabled list with a strained left shoulder. Scott Diamond will be recalled as a corresponding move, which should tell you all you need to know about the Twins' fortunes this season. Diamond is 4-14 with a 5.56 ERA and 1.58 WHIP in Triple-A this season.
If choosing the most disappointing team in Major League Baseball this season, it would be hard to go wrong with the Minnesota Twins. The kicker is that it's not really even their fault, in terms of performance on the field. We have no idea where a completely healthy Twins team would be with relatively complete health. They might have still disappointed, they might be in first place or somewhere in between.
To get specific, the Twins had played 129 games prior to Thursday. Here are the number of games played from some of their position players:
Joe Mauer
: 70
Justin Morneau
: 65
Denard Span
: 65
Jason Kubel
: 81
Alexi Casilla
: 97
Tsuyoshi Nishioka
: 61
There are more, too, but that's 2/3 of the starting lineup. It's been a vertiable injury ward in Minnesota this season.
On Liriano specifically, shoulder injuries are always a concern for pitchers and he has some injury history. He has loads of talent, as evidenced by
his no-hitter earlier this season
and his lights-out rookie year. But since that Tommy John surgery back in 2006, he's been pretty inconsistent. There were
trade rumors with Liriano before this season
after he had a pretty good 2010 season, but nothing happened and now his value might be shot.
Prior to Thursday, Liriano was 9-9 with a 4.85 ERA and 1.45 WHIP in 23 starts this season.
For more baseball news, rumors and analysis, follow @EyeOnBaseball on Twitter or subscribe to the RSS feed.