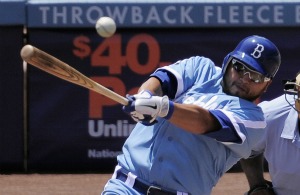 By C. Trent Rosecrans
We all know you're supposed to get three strikes before you're out -- but two may be enough for Dioner Navarro to be out of baseball.
The catcher was designated for assignment by the Dodgers on Tuesday, not because of his .193/.276/.324 slash line, but because of his work ethic -- or lack of it, manager Don Mattingly told Steve Dilbeck of the Los Angeles Times.
"I believe you have to work and work and work, and that's if you're going good. I don't care who you are. Matt Kemp has to keep going, has to keep getting after it. I just believe in that," Mattingly said. "And at the position we were 11 games back, and he just wasn't fitting into what we believed in about how you go about your business."
This was apparently nothing new to the Dodgers -- or even the Rays before him.
Mattingly had approached Navarro several times about his attitude, he said.
"We were all up front," Mattingly told Dilbeck. "We didn't hide anything. We had talked about some of the issues we'd had awhile back, the way I felt about it. It got to a point where it was time."
It's the second year in a row Navarro's season ended with his manager and team unhappy with his attitude. Last season he wasn't included on the Rays' postseason roster, but when asked to stick around to help with the team's pitchers and help catch pitchers and be ready if there were any injuries, he declined. He instead retreated to his him -- in South Tampa -- and had no more contact with his team, drawing the ire of teammates and management alike. Tampa Bay non-tendered him after the season.
The Dodgers signed Navarro as a backup catcher in the offseason to serve behind Rod Barajas. Navarro started 54 games for Los Angeles, but the team finally had enough and called up A.J. Ellis to serve as the primary backup and let Navarro go on his way.
Navarro, 27, had his best season in 2008, hitting .295/.349/.407 in 120 games, receiving a bump to $2.1 million in 2009 and immediately seeing his production drop to .218/.261/.322 in 2009 and .194/.270/.258 last season.
A once promising player, Navarro now has a reputation as a slacker and a me-first player, something you never want, but is even less desirable behind the plate.
Earlier in his career Navarro hit well enough to justify a flyer on him, but with dwindling production and less-than-stellar reviews behind the plate, it may be tough for him to find work again next season.
For more baseball news, rumors and analysis, follow @eyeonbaseball on Twitter or subscribe to the RSS feed.