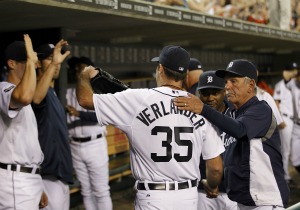 By C. Trent Rosecrans
Friday Tigers manager Jim Leyland told a radio station that he didn't think a pitcher should win MVP -- on Saturday he clarified that statement, saying he supported his pitcher, Justin Verlander, winning the MVP but he philosophically didn't believe a pitcher should win the award.
"I will support Justin Verlander for the MVP to the hilt," Leyland told reporters (MLive.com). "I want to make that perfectly clear. The question that was asked of me was if I thought a pitcher should be the MVP. And my answer to that is no. But under the way the system is, I certainly will support Verlander to the hilt."
In today's black and white world, someone is always going to yell about another person's opinion and how they're stupid and all that. Instead, I'll just disagree. I disagree with Leyland that a pitcher shouldn't be eligible for the MVP, but I don't begrudge him his opinion -- Leyland has more baseball knowledge in one of his discarded cigarette butts than I'll ever have, I just disagree. So too does our own Evan Brunell, who wrote about this earlier this week and made a pretty good case for including a pitcher in MVP voting. Last year I had an MVP vote and had two starting pitchers in my top 10, but neither in the top five.
However, for a pitcher to win the MVP, he'd have to have a truly special season -- and Verlander may just be on that road -- even if my vote (if I had one, which I do not) right now would go to Jose Bautista.
For more baseball news, rumors and analysis, follow @eyeonbaseball on Twitter or subscribe to the RSS feed.