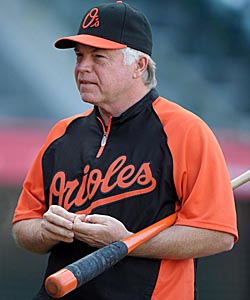 By Matt Snyder
With Hurricane Irene doing her part in ruining some plans from the past several days, baseball scheduling on the East Coast has been mangled a bit. Included is the
Orioles
-Yankees series in Baltimore. It was initially scheduled to be a five-game series from Friday through Monday -- the latter of which due to a previous rainout. With the torrential rains expected Saturday and possibly Sunday, the
Yankees
wanted to play a doubleheader Friday to make sure there wouldn't be need for any makeup games. The Orioles refused, citing shock over
Mike Flanagan's recent death
as one of the reasons.
Because of this, the Yankees will now have to travel to Baltimore for a single makeup game on September 8, which was their only scheduled off-day between now and September 15. Yankees general manager Brian Cashman, manager Joe Girardi and player representative
Curtis Granderson
were all frustrated that there wouldn't be a doubleheader on Friday and let their feelings known in the media -- though, in fairness, none of them specifically mentioned Flanagan's death. Cashman reportedly might complain to the office of the commissioner.
This doesn't sit well with Showalter, who managed the Yankees from 1992-1995 before being fired.
"First of all, I felt that some of the stuff was a little disrespectful to Flanny quite frankly," Showalter said (
Britt's Bird Watch
). "That didn't sit with me very well. I can tell you that. We didn't say much -- I think we had an April rainout there -- and they just told us when we were playing. We were Ok with that. Like I told you the other day, you tell us when we're playing, we'll play. The whole scheme of life, the things that really consume you. We understand that sometimes our opinions on things are not relevant. They come to me when there is two options and talk about it from a baseball standpoint. Every club does that. But some of it kind of has a feeling of [hypocrisy]. I don't know. I don't dwell on it. Their opinion on what the Baltimore Orioles should do for their fans and for their organization isn't really that relevant to me personally. I can tell you that. We'll do what's best for our fans and for our organization and we expect it back that they're going to do the same on their side."
This isn't the first time
Showalter has been critical of the Yankees
and it likely won't be the last.
The Orioles and Yankees
play a doubleheader Sunday
.
For more baseball news, rumors and analysis, follow @EyeOnBaseball on Twitter or subscribe to the RSS feed.