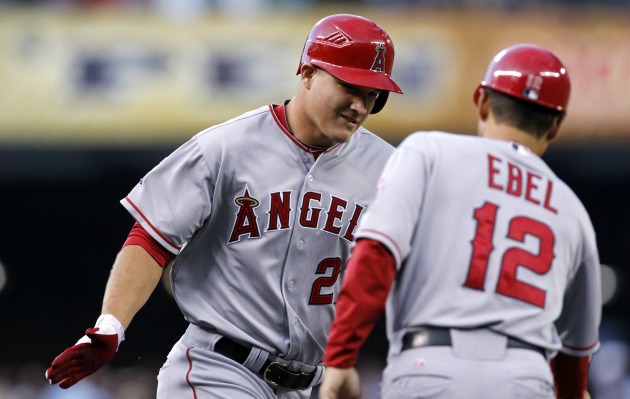 By Evan Brunell


Mike Trout, Angels:
Trout authored a game we may be seeing a lot of over the next two decades, slamming three home runs and driving in five, going 2 for 4 with a walk and three runs scored. Trout was responsible for the first four runs of the game, homering in the second and fourth to push Los Angeles to a 4-0 lead in an eventual
13-6
win. The heralded prospect, just 20, absolutely will earn more playing time as a result. Over 65 at-bats on the year, his line is .246/.306/.523, which L.A. will happily take.
Roy Halladay, Phillies:
Halladay had another... well, Halladay-like performance, tossing seven innings of one-run ball against the
Reds
, plus tacking on three RBI thanks to a bases-loaded double in the sixth. The rest of the Phillies' scoring was done on homers, with two by
Ryan Howard
, and one apiece by
Hunter Pence
and
Raul Ibanez
. Halladay's ERA got shaved to 2.47, with his record now 16-5. He's a lock for the Cy Young and could threaten to win the MVP.

Gerardo Parra, Diamondbacks:
Parra is one of these players who sticks on a roster the entire year, and even plays enough to accumulate significant playing time but is rarely featured in these wrapups. The left fielder enjoyed a 4-for-5 night, scoring three runs and driving in two, stroking a double and triple in a game that raised his overall line to .291/.351/.422 in 358 plate appearances. Parra struggled through a lousy 2010 after opening some eyes in 2009, and the 24-year-old has rebounded this year, mostly appearing in left but also making appearances in left and center field.
---
Trevor Cahill, Athletics:
Life isn't good for Cahill, as Rotoworld.com details: "He's given up at least seven runs in three of his last 10 starts and at least five runs in four of his last 10, causing his ERA to spike from 3.16 to 4.26 ... He entered the game with a 7.00 ERA in 45 innings since the All-Star break ... Since going 6-0 with a 1.72 ERA through his first eight starts of the season, Cahill is 3-13 with an ERA approaching 6.00." Yeah, that's about right. Cahill's latest start saw the
Indians
paste him for five runs in 5 1/3 innings, spiking his ERA to 4.26. Cahill won 18 games last year, but has pitched wholly undeserving of that mark thus far this season.
Anthony Vasquez, Mariners:
Seattle is trying to get a long look at the right-hander for next season after he posted a 3.57 ERA in 24 starts between Double- and Triple-A, but he now has two straight poor starts that could bump him from the rotation. The 24-year-old gave up eight runs, seven earned to the Angels -- four runs alone to Trout -- in just four innings, contributing three walks against just one strike out en route to shoving his ERA all the way up to 11.57 through two starts.
Tim Stauffer, Padres:
Seven earned runs and seven walks in 1 1/3 innings, giving up just one hit to the
Dodgers
in the meantime, with everything mentioned ocurring in the 2nd inning sans one walk. It was not a good day to be Tim Stauffer, whose promising ERA spiraled to 3.76 after entering the day at 3.42. It's a testament to how well Stauffer has pitched that his ERA isn't out of control, but it was still a nightmare outing that included walking opposing pitcher
Hiroki Kuroda
with the bases loaded. Reliever
Anthony Bass
didn't help matters, surrendering a grand slam when replacing Stauffer that added three runs to the righty's night. According to Stats, LLC, the six walks in the 2nd inning were the most since Daniel Cabrera also surrendered six walks to the
Red Sox
, this time in the first inning way back on April 7, 2006.
For more baseball news, rumors and analysis, follow @EyeonBaseball on Twitter or subscribe to the RSS feed.