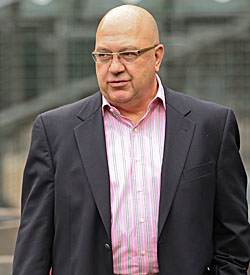 By Matt Snyder
The Seattle
Mariners
have given general manager Jack Zduriencik a multi-year contract extension, the team announced Wednesday.
From the Mariners' press release:
"Jack arrived in Seattle with a clear plan, and he has not deviated from that plan," president and COO Chuck Armstrong said. "Jack wanted to increase the talent base in our organization through scouting and player development. That is exactly what he has done."
"Through trades, waiver claims and free agent signings, as well as the draft, Jack has accumulated talent throughout the Mariners organization," Armstrong continued. "Our drafts the past three seasons have been very good, as exemplified by recent picks already arriving in the Major Leagues. Our player development group, revamped by Jack when he arrived, has done a very good job of preparing players to be successful in the big leagues. Eric Wedge and his coaching staff, hired by Jack, have done a terrific job of balancing our desire to win every game we play with the challenge of developing young players to be a part of championship teams in the future."
"We are headed in the right direction for long-term success," Armstrong said. "Now, as quality young players drafted by the Mariners and developed in our system begin to arrive in Seattle, our fans can look forward to an exciting future thanks to Jack's efforts."
Zduriencik, 60, was hired by the Mariners following the 2008 season. He previously was in the
Brewers
front office from 1999-2008, where he drafted free-agent-to-be
Prince Fielder
, among others. Might he make a run at Fielder this coming offseason? The Mariners could certainly use some power.
The biggest moves at the major-league level Zduriencik has made would be dumping the Carlos Silva contract he was saddled with -- though it also brought problem child Milton Bradley to Seattle -- trading for
Cliff Lee
, trading Cliff Lee and signing
Chone Figgins
. Zduriencik did get
Felix Hernandez
locked up long term as well. Much of the progress mentioned by Armstrong, however, was in building the farm system, which is widely considered a strong one at present.
Dustin Ackley
was Zduriencik's first first-round draft pick, for example.
For more baseball news, rumors and analysis, follow @EyeOnBaseball on Twitter or subscribe to the RSS feed.