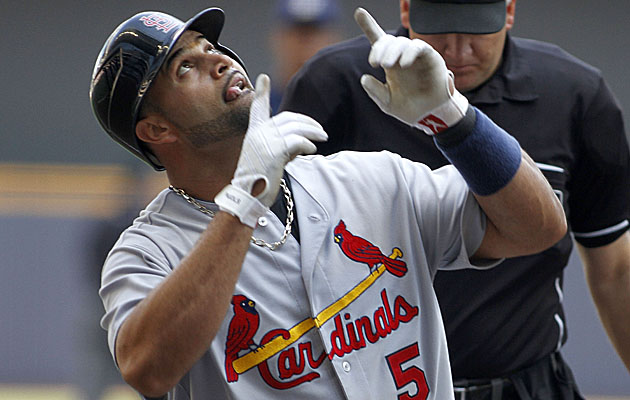 By Matt Snyder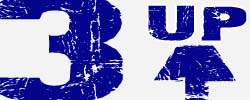 Albert Pujols, Cardinals.
So ... about that "disappointing season" ...
Thursday, Pujols hit a solo home run in the first inning, a grand slam in the third inning and ended the day 4-4 with five RBI and three runs as the Cardinals trimmed the
Brewers
lead to
7 1/2 games in the NL Central
with an
8-4 win
. Pujols is now hitting .292 with a .917 OPS, 90 runs, 84 RBI and an NL-best 34 home runs. You'd be hard pressed to name a handful of players more scary in the batter's box to opposing pitchers, even in the worst season of his career.
Brett Lawrie, Blue Jays.
The kid the Jays got in return for starting pitcher
Shaun Marcum
just keeps hitting. With the score tied at six in the eighth inning Thursday, Lawrie
hit a two-run bomb to propel
the Blue Jays to victory. On the day, Lawrie was 3-5 with a double, home run, two runs and two RBI. In just 26 games since getting his call to the show, Lawrie has 32 hits, six doubles, four triples, seven home runs, 20 RBI, 15 runs and four stolen bases. He's hitting .340/.392/.713 and he's only 21 years old. Needless to say, the return on Marcum looks like it is going to be quite nice for years to come.
Miguel Batista, Mets.
The 40-year-old veteran made his Mets debut Thursday, meaning he's now pitched for 10 different teams. He put together a quality start, working six innings and allowing two earned runs, which
was enough to earn the victory
. It was the 100th win in his 17-season career (he has 375 relief appearances to 240 starts, so it's not as unproductive as it looks).
---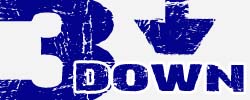 The Pittsburgh Pirates.
Remember when the Pirates were a whopping seven games over .500? It wasn't that long ago. It was the third week of July. They were in first place in the NL Central. It's buried far in the rearview mirror at this point, though. After being held in check by
Dana Eveland
for eight innings Thursday, the Pirates are 11-31 since July 19. They're now 18 1/2 games out and are actually in danger of falling into fifth place at some point this month. Pirates fans were tweeting that
Thursday's game
was "rock bottom" due to Eveland holding the Bucs to one run over eight innings and drawing a walk at the plate, in addition to some awful defense in the seventh inning.
Yankees/Red Sox game pace.
The game lasted four hours and 21 minutes. The
final score was 4-2
. It's taken on a life of its own at this point -- and,
as Mr. Teixeira said, it's brutal
. It is just amazing how long these Yanks-Sox games take. In the generation of 140 characters and endless Internet and TV options, you wonder about the lasting impact of this with the next few generations -- as these are baseball's two marquee franchises and easily get the most exposure in coverage. I have no problem with either the Yankees or
Red Sox
, so don't waste your time with those accusations. My bias is pro-baseball long-term. What percentage of teenagers would rather watch baseball for four hours than basketball for two or football for three? They'll be adults with jobs soon. This game pace issue is going to be a problem for our game if things don't change. It's hard enough to sell a 162-game regular season in this day and age. Think about it. We fell in love with this game as kids. The game needs to be sold to kids. Four and a half hour games that end around 11:30 on a school night don't cut it.
Tigers' pitching staff.
It was a pretty good team effort to be carved up by the
Royals
for
11 runs on 17 hits
, which included four doubles and two home runs. Starter
Jacob Turner
and
Phil Coke
-- who took the loss -- were the worst, but all five of the pitchers in the game were bad. The only one who wasn't charged with a run was Luis Marte, but he only recorded two outs and allowed three baserunners (and two inherited runners to score).
For more baseball news, rumors and analysis, follow @EyeOnBaseball on Twitter or subscribe to the RSS feed.