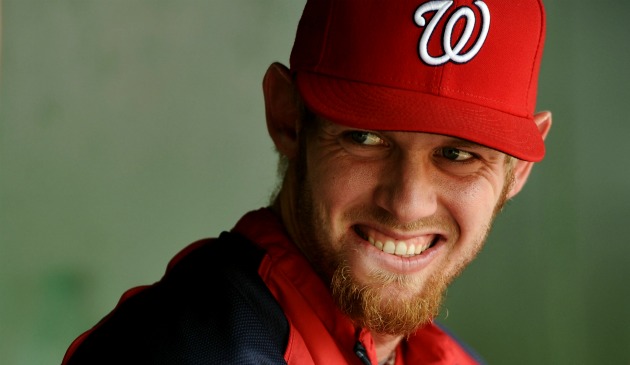 By Evan Brunell


Inning limit
: As
Stephen Strasburg
prepares to dazzle baseball with his skills Tuesday night in his much-anticipated return from Tommy John surgery, the question arises as to exactly how many innings the Nats can get out of its presumptive ace next season.
As the
Washington Times
writes, Washington determines inning limits on an individual basis, taking into account "their age, conditioning, innings in the previous season and big- league innings before the injury." For example,
Jordan Zimmermann
was shut down at 161 1/3 innings this season, the season after his own Tommy John surgery. That represented a 20 percent increase over his previous career-high set in 2009, which is a traditional barometer in baseball.
Assuming the same 20 percent increase, Strasburg would throw 147 innings in 2012, up from 2010's 123 2/3 innings between the majors and minors. That limit is based off his previous high, not off any complications from the surgery, which could factor in -- although other pitchers have cracked 200 innings a year after surgery, so that shouldn't hold Strasburg back. Washington won't make any type of determination until spring training, which is the smart move. Bank on a cap similar to Zimmermann's 160, but that could always change if the Nats find themselves in a postseason race down the stretch.

Mattingly eager
: Don Mattingly, skipper of the
Dodgers
, is eager to see Strasburg at work against the Dodgers. "He's created a buzz, that's for sure, last year, and [he] continues to," Mattingly
told MLB.com
. "And he's produced. When he's pitched, he's pitched well."
Span back
: The concussed Span is back with the
Nationals
after resting at home in Tampa for the past week. Span, who suffered the injury on June 3 and later hit the disabled list retroactive to Aug. 3, still harbors hope of returning this season. "I do truly believe that I will be back on the field," Span
told MLB.com
. "When? I don't know. But I will be back out there. If things go good, I would like to go into the offseason having played in some games here. I'd rather do that than go into the offseason not playing at all."
It's always interesting to hear a player's take on concussions, as it remains a relatively new (at least, as far as admitting the injury and properly diagnosing it goes) injury and one that is still undergoing plenty of research. Here's Span's take:
"It's not a normal injury," he said. "Sometimes you start wondering if people believe what you're telling them about how you feel. So mentally, it's little things like that. You know how this game is and all masculine sports -- everybody feels that if you're not bleeding, you should go out there and play. And I tried doing that, so it's not like I didn't try. So that's been tough for me."
Retirement?
Hideki Okajima doesn't know what his future will hold, but it's definitely not Boston. Despite pitching well in Triple-A after a failed early-season stint with the
Red Sox
, Okajima hasn't returned since being outrighted off the 40-man. Once a strong setup man, the ensuing years haven't been kind to the Japanese left-hander, but he didn't help himself by saying he'd rather remain in Pawtucket than return to Boston when he was first demoted back down to Triple-A.
Now, Okajima isn't sure what type of offers he will get from other clubs in the winter, but wouldn't rule out a return back to Japan or even retirement.
"I didn't expect to be in this situation, but this is reality," he told the
Providence Journal
. "I am here. It's obviously very disappointing to be in this situation in this point in the year, but this is reality and this is where I belong right now. I've accepted that fact and just have to rethink how I approach the game so I can be where I want to be next season."
Ziegler adjusting
: It took some time for the former A to adjust to life as a Diamondback, both with the transition to the NL and trying to conform to Arizona's philosophy of varying times to the plate to help control the running game. He hasn't allowed a run or walk in his last 4 1/3 innings over six games, stranding eight baserunners. "The National League style of ball is different and it took a little getting used to," Ziegler
told MLB.com
. "Hitters are more aggressive early in the count and it made a difference just in how I had to approach each at-bat."
9/11
: The
Yankees
won't be in the city for the 10th anniversary of terrorist attacks on the World Trade Center on Sept. 11 this Sunday, so will hold a ceremony on Wednesday. Click through to read what the ceremony will hold. (
MLB.com
)
Furcal wants to return
:
Rafael Furcal
hopes to return to the
Cardinals
after the year, a prospect St. Louis is hoping comes to pass. The Cards have a busy offseason on their hands, so Furcal may have to wait, but given the shortstop's brittle body, isn't expected to command a significant deal. Ideally, the Cards would ink Furcal for one season on an incentive-laden contract. (
St. Louis Post-Dispatch)
Social media
: After being part of one of the more controversial plays -- and certainly the most controversial in replay history thus far -- the
Marlins
' Bryan Peterson discussed the play for a half-hour on Twitter before calling it quits when tweets got derogatory. It's incredible how fast the social media revolution has hit baseball, as now players are taking to Twitter to discuss controversial plays with the fanbase. That would have been unheard of five years ago. (
MLB.com
)
Drafting time
: Baseball players take their fantasy sports seriously. Just check out this photo
Matt Kemp
tweeted of the Dodgers' fantasy football draft. (
Kemp's Twitter
)
Rookie time
: The Marlins called up third baseman
Matt Dominguez
as part of September callups. It's the first stint in the bigs for Dominguez, who was considered a heavy favorite to open the year as the starting third baseman. He won't play extensively down the stretch, but will be showcasing himself to be next season's starting third baseman. (
MLB.com
)
Good news
: The
Mets
got encouraging reports on two injured players integral to the team.
Johan Santana
is proceeding on pace and will throw on Friday in a minor-league game. With playoffs likely over after the weekend, that would line up Santana's next stint to come in the majors, where he'd throw two or three innings. Meanwhile,
Ike Davis
participated in baseball activities all weekend pain-free. Doctors still need to sign off on his ankle, but it appears as if he will be 100 percent for spring training. (
ESPN New York
)
Speaking of...
Speaking of Davis, here's some more stuff on the Mets first baseman, who believes he won't need surgery on his ankle. "The bottom line is there are gonna be some effects from this my whole life," Davis told the
New York Post
. "Either arthritis or something else later on, but as long as it's not sharp pain, [I can play]." While doctors are expected to sign off on his ankle, Davis says it's a day-to-day thing at this point, so surgery remains possible.
For more baseball news, rumors and analysis, follow @EyeonBaseball on Twitter or subscribe to the RSS feed.