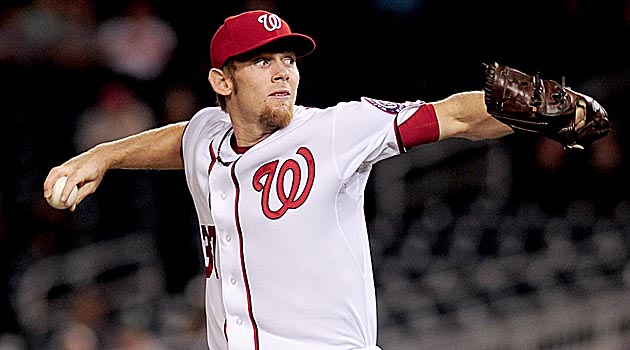 By Matt Snyder
In case you've completely ignored baseball this week, we'll inform you that
Stephen Strasburg
made it
back to the majors -- and dazzled
. It had been just a few days over a year since he underwent Tommy John surgery to repair the torn ulnar collateral ligament in his right (throwing) elbow.
I guess you could call the return at least slightly controversial, because there are some who believe the
Nationals
should not allow Strasburg to pitch this month. Former Nationals GM Jim Bowden had some pretty serious words for those against Strasburg pitching this season. On his radio show, he was reacting to a poll as to whether or not Strasburg should pitch this season -- and he didn't hold back (via
Washington Post
):
"This is a really dumb poll and a really dumb question, and it infuriates me," Bowden said. "And it's probably just because I'm a former GM, but how anybody can criticize the way the Washington Nationals have brought Stephen Strasburg back?

"[Critics] know nothing about baseball, nothing about rehab, nothing about the history of the surgery, and have NO respect for the medical profession. They followed this to the t. This is Dr. James Andrews, who is one of the best in the country; this is his exact plan, TO THE DAY. It's 12 months and 3 days from the surgery, and he never had a setback, and they carried about the exact program. His velocity's up to 98, 99 with no pain, and they're doing absolutely everything they're supposed to from a medical perspective, from a baseball perspective and for the future of Strasburg.

"He's not on the mound tonight to sell tickets. He's on the mound because this is the program that you do when you come back from Tommy John, and you want to build up Major League innings as part of this program at the end, so that next year if they're in a pennant race, they're gonna be prepared to have Strasburg pitching important games in September. This is nothing that can be debated. Nobody can sit here and say that this is wrong and have any medical or baseball reason for that....

"C'mon. Give me a freaking break. I don't even want to be discussing this. KUDOS to Mike Rizzo and the Nationals, KUDOS to Jim Andrews, KUDOS to Stephen Strasburg, KUDOS to the training staff of the Nationals, to Dr. Wiemi Duoguih, to Dr. Andrews, everybody that was involved in this process did their job, and he's on the mound tonight BECAUSE of that.

"God Bless the Nationals, God Bless Strasburg, and God Bless the United States of America."
Awesome.
Thank you, Jim. Allow me to supplement.
From a personal standpoint, every time I post anything about Strasburg, there's bound to be someone in the comments section or on Twitter saying the Nationals are "rushing" Strasburg back. Publicly, there have been a few critics, too. Rob Dibble, for example, has been critical of the return -- which is ridiculous, because
Dibble told Strasburg last season to "suck it up" and keep pitching
. Curt Schilling also said there was no reason to bring Strasburg back this year.
Nevermind that Tommy John surgery carries a 10-14 month recovery period nowadays and that Strasburg came back well within that frame. Nevermind that freaking
Dr. James Andrews
-- easily the most respected sports surgeon around -- has cleared him. Nevermind that the Nationals have handled
Jordan Zimmermann
as perfectly as possible in his recovery from the exact same procedure.
Nah, none of that matters when it comes to Strasburg for some. Since the Nationals are out of the race, they should just shut him down for the season ... seemingly just for the sake of shutting him down. Really?
What I find most hilarious/maddening is that we'll often get comments complaining about players not playing through pain. You know, because if it was a real job they'd have to show up for work everyday. Since they are millionaires, they should just show up for work no matter what. Sometimes it's completely fair (if an injury doesn't affect performance and can't get worse through playing, I'd agree whole-heartedly players should play through pain).
Strasburg is ready, willing and able to show up for work now. His doctor says his injury is healed enough for him to pitch. He's throwing nearly 100 miles per hour. And people still complain. It's amazing.
In response to the fair question of what can be gained by Strasburg pitching this month, I'll reply with the following: He's building arm strength at the absolute ideal time in his rehab process to do so. In the process, he's getting more experience working against major-league hitters for a few starts, which will only speed the process in his development as an ace. Remember, he's still only 23 years old and only has 13 big-league starts under his belt.
Now, I have two questions for the naysayers:
1. Are you smarter than Dr. Andrews when it comes to surgical recovery?
2. Do you know how Strasburg physically feels?
If you answered no to both of the above, stop complaining and enjoy watching Strasburg's immense talent. If you answered yes to either, you're delusional and need to find a different kind of doctor.
For more baseball news, rumors and analysis, follow @EyeOnBaseball on Twitter or subscribe to the RSS feed.