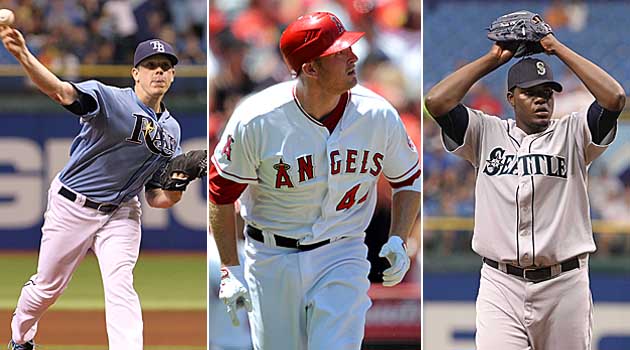 By Matt Snyder
During the week, Eye on Baseball will be profiling candidates to win baseball's major awards after the season. Today: the AL Rookie of the Year.
View contenders for the
:
AL MVP
|
NL MVP
|
AL Cy Young
|
NL Cy Young
Members of the Baseball Writers Association of America who get to vote for the Rookie of the Year in either respective league are forced to narrow the field to three players. In looking at the American League rookies in 2011, that's not a simple task. It seems like the three best at the moment haven't been up for long. Others were stellar for a stretch but have also suffered through rough patches. It's a subjective award, so let's throw some names out there.
Here are seven players who have a realistic shot and three more who could have had one -- if they were recalled from the minors earlier (denoted by an asterisk).
*Dustin Ackley, Mariners.
One of the future anchors to the Mariners lineup has only been up for 71 games, which likely isn't enough to garner tons of support here. He is hitting .300 with 13 doubles, seven triples and six home runs and an .845 OPS. He scores well in WAR (wins above replacement player), but he probably needed to be overly spectacular to win the award with what will be just over a half season.
J.P. Arencibia, Blue Jays.
Big power (21 home runs) at a tough defensive position is a plus. It would be awfully difficult to overcome the .221 batting average and .281 on-base percentage to win the award in a crowded field, though.
Jeremy Hellickson, Rays.
It feels like he'll have a good shot, depending on how the rest of the season goes. Hellickson is currently 12-10 with a 2.90 ERA and 1.13 WHIP. He also has two complete games and is averaging 6 2/3 innings per start. It's been a very solid rookie campaign, even if not spectacular.
Eric Hosmer, Royals.
The 21-year-old first baseman has been very good since getting his call in May. He's hitting .285/.335/.458 with 16 home runs, 66 RBI, 55 runs and nine stolen bases. Like Hellickson, though, Hosmer's been more steady than spectacular. The next two guys have been spectacular, but only for a short time ...
*Desmond Jennings, Rays.
He's only been up for 44 games, but he's hitting .302 with nine home runs, 15 stolen bases and a .936 OPS. He also passes the eye test, as he comes through in the clutch and has made a few highlight-reel defensive plays. The talent is immense, but the service time probably keeps him off most ballots.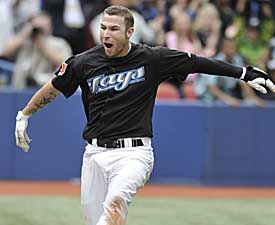 *Brett Lawrie, Blue Jays.
In just 32 games, Lawrie is hitting .324 with eight homers, 21 RBI, 19 runs, six steals and a 1.076 OPS. He also has a few clutch home runs (see the picture to the right) and plays the game with a youthful enthusiasm (again, see right). Had he not broken his hand on a hit-by-pitch earlier this summer in the minors, a promotion was likely to come earlier and he'd probably have a real shot at the award, Instead, he's going to have enough service time to qualify as a rookie, yet probably not near enough to gather many, if any, votes.
Ivan Nova, Yankees.
Do you like win-loss record in judging pitchers? If so, Nova's your guy here in a no-brainer. He entered Thursday 15-4 for the first-place Yankees. If you don't love win-loss record, he probably doesn't win the award. He has a 3.89 ERA and 1.34 WHIP with a low strikeout rate (again, these numbers are prior to Thursday's start).
Michael Pineda, Mariners.
The gargantuan starting pitcher was the easy favorite to win the award at the All-Star break. He was 8-6 with a 3.03 ERA, 1.04 WHIP and 113 strikeouts in 113 innings at the time. Since then, he's 1-3 with a 5.48 ERA. Still, did he do enough to hold on? His full season numbers: 9-9, 3.74 ERA, 1.09 WHIP, 163 strikeouts in 159 innings. It will be interesting to see how the early stretch of dominance (6-2, 2.16 ERA through nine starts) plays in the minds of the voters.
Mark Trumbo, Angels.
His power numbers look great -- 26 homers, 80 RBI, 28 doubles -- and he's playing in a pennant race. He's also had the job since opening day and has admirably filled in at first for injured
Kendrys Morales
. Trumbo also had some clutch moments of his own. Do the average (.256), on-base percentage (.295) and strikeout-to-walk (102 to 24) rates hurt him? We'll see.
Jordan Walden, Angels.
The 23-year-old closer made the All-Star team, but he's faltered in several rough stretches. What looks good: 29 saves, 2.55 ERA, 1.19 WHIP and 59 strikeouts in 53 innings. What doesn't: Nine blown saves out of 38 chances. That's awfully high. So do the positives outweigh the negatives? There's sure to be some disagreement among voters.
So who is the best candidate? What would be your top three? Let us know below ...
For more baseball news, rumors and analysis, follow @EyeOnBaseball on Twitter or subscribe to the RSS feed.