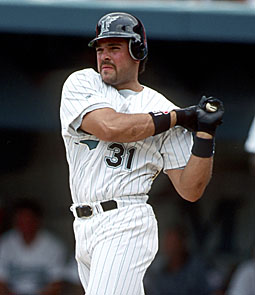 By Matt Snyder
Mike Piazza was a big part of the
Mets
closing down Shea Stadium, so it's only natural he'd be a part of the
Marlins
closing down Sun Life Stadium.
Wait, what?
Yes, the Marlins have unveiled plans for "historic closing day" at Sun Life Stadium. They're having a celebration September 28 in memory of all the great times in the football stadium before finally moving to their own baseball stadium.
From the press release sent by the Marlins:
"To commemorate the 19 seasons as the Florida Marlins, the Club will host a special post-game on-field ceremony, during which the Florida Marlins All-Time team will be unveiled, as selected by the fans in an online voting campaign. The historic Closing Day will also feature the Top 10 Memories in Florida Marlins history, also voted on by the fans.
"Current and former players and coaches will come together to celebrate this great milestone in the history of the franchise. Scheduled attendees include Kurt Abbott, Antonio Alfonseca, Moises Alou, Alex Arias, Bruce Aven, Rickey Bones, Bobby Bonilla, Kevin Brown, Luis Castillo, Greg Colbrunn, Jeff Conine, Reid Cornelius, Andre Dawson, Alex Fernandez, Cliff Floyd, Chris Hammond, Lenny Harris, Bryan Harvey,
Livan Hernandez
, Charlie Hough, Charles Johnson,
Josh Johnson
, Rene Lachemann, Al Leiter, Mike Lowell, Josias Manzanillo, Jack McKeon, Robb Nen, Vladimir Nunez, Tony Perez, Mike Piazza, Scott Pose,
Hanley Ramirez
, Pat Rapp,
Ivan Rodriguez
, Cookie Rojas, Benito Santiago, Gary Sheffield, Julian Tavarez, Tony Taylor, Michael Tejera and Preston Wilson.
"
So, yeah, Piazza's name jumps out there. It's not like this a 100-year franchise or anything, but the Marlins do have two World Series championships and many good players have had stints with the club. Piazza had a five-game layover after a trade from the
Dodgers
before being spun to the Mets.
It's nothing to get worked up over, and if Piazza really wants to go, more power to him. It's just funny. He was with them for
five games
.
It must have been a
magical
week ... and, hey, he did land them Preston Wilson. So there's that.
For more baseball news, rumors and analysis, follow @EyeOnBaseball on Twitter or subscribe to the RSS feed.