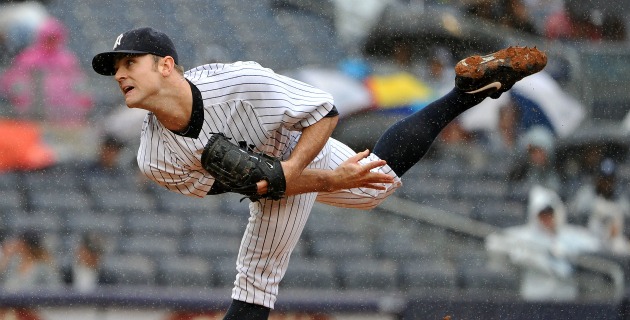 By Evan Brunell

Mariano's successor?
The other day, I read a piece suggesting that the
Yankees
could theoretically sign
Jonathan Papelbon
in the offseason, have him set up
Mariano Rivera
's final year in town and then take over.
It's possible. But it's more probably that Rivera's successor is already on the team, and I'm not talking about
Rafael Soriano
.
"There are a lot of similarities there in how they throw their fastballs," catcher Russell Martin told the New York Post when asked to compare Rivera and setup man David Robertson, who has broken through in a big way this season with a 1.23 ERA in 58 1/3 innings, striking out 89 and walking 31. That ERA is unsustainably low, but speaks to the impact the righty has had in the bullpen. Robertson is no Rivera -- who is? -- but those kind of strikeout numbers would work quite well in a closer's role. While Robertson walks a bit too much, that hasn't bothered other walk-prone closers such as Carlos Marmol, even if it increases the chances of an occasional blowup.
"Maybe that can happen a few years down the road," Robertson said of replacing Rivera. "But I don't have to worry about that. Mo's not leaving. It would be cool to do [to be the closer]. But we have No. 42 and he ain't leaving."
Offended
: Incoming
Astros
owner Jim Crane is "offended" by both the delay in being approved and the public perception of Crane -- especially when details of his divorce leaked out, invading his personal life. Crane also noted that his contract to buy the team expires on Nov. 30. (
Houston Chronicle
)
Power rankings
: Four unlikely candidates to manage the
Cubs
top the latest power rankings on the subject. GMs Andrew Friedman, Billy Beane, Theo Epstein and Brian Cashman lead off the list that has a distinct Boston flavor to it. (
Chicago Tribune)
No more I-Rod
:
Ivan Rodriguez
likely won't catch for the remainder of 2011, as the Nats want to take a look at their future in
Wilson Ramos
and
Jesus Flores
. Rodriguez hopes to catch at least four more years. While that's a stretch, he should catch long enough to net hit No. 3,000 -- he's at 2,842. (
Washington Post
)
Doubles machine
: Not only do
Royals
outfielders lead baseball in outfield assists by a wide margin, but each of them also has at least 39 doubles. That makes them the third team in baseball history to reach the feat, along with the 1998
Angels
and 1932
Phillies
. But both these teams had an outfielder with 39 doubles, with
Melky Cabrera
there already. So on his next one, the Royals will set history. Oh, and DH
Billy Butler
is two away from 40, so four players could reach the mark for K.C. That would be the fourth such time a team pulled that off. If they can all reach 42, it will be the first time ever a team has accomplished such a feat. (
Rany on the Royals
)
Braden shows up
:
Dallas Braden
wasn't too keen on showing his face in the Oakland clubhouse after undergoing season-ending surgery in May, much to the chagrin of his teammates. GM Billy Beane interviewed and spoke to Braden, as the
San Francisco Chronicle
writes, leading to this quote from Braden on Beane's encouragement: "Makes you feel like less of a loser."
Alonso's story
: Background stories about Cuban defectors always has two components: the harrowing departure from Cuba, plus how grateful the players are to be in the majors. Rather than being a cliche, it's a reminder of the challenges that one faces in life.
Yonder Alonso
is no exception, whose family bolted Cuba when he was 9 years old. (
MLB.com
)
More homers than walks
: Prior to the season, 99 instances of 20-plus homers with less than 20 walks have occurred in baseball history. Now, eight are on pace to add to the total, with 50 coming since 1991 in further evidence how the game has changed and tilted toward power.
Alfonso Soriano
is on pace for his fourth such distinction, plus
Mark Trumbo
.
Vernon Wells
and
J.J. Hardy
both have the same amount of homers and walks, while
Nelson Cruz
,
Adrian Beltre
,
Michael Morse
and
Adam Jones
are threatening. (
MLB.com
)
Glad you left
: Which teams are sick of seeing certain players? Here's a full list, led by Washington being crushed by
Mike Stanton
this season with a 1.087 slugging percentage. (
The Hardball Times
)
Too close
: Baseball journalist Marcos Breton has admitted he grew too close to Miguel Tejada, which has given him unique perspective on his release instead of, as he put it, "[being] too harsh on some subjects for this column, and I promised myself to reflect on Tejada the next time someone stumbles publicly, as all of us will, when life inevitably brings us down to size." (
Sacramento Bee
)
Try, try again
:
Tim Wakefield
will try yet again for win No. 200, currently slated to start Tuesday against the
Blue Jays
. (
Providence Journal
)
For more baseball news, rumors and analysis, follow @EyeonBaseball on Twitter or subscribe to the RSS feed.