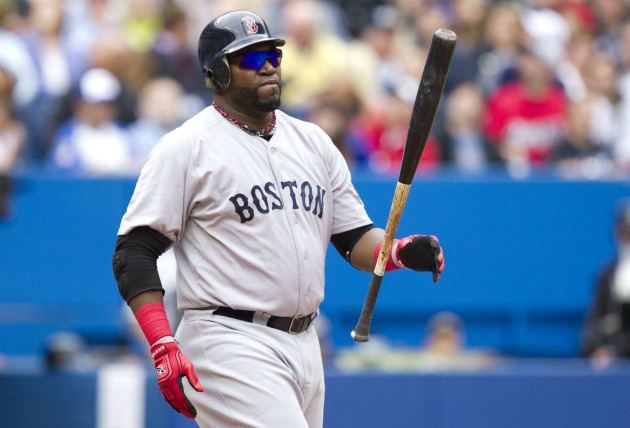 By C. Trent Rosecrans
The Wild Cards were all sewn up -- or so we thought.
While it appeared the Braves and Red Sox would cruise to the Wild Card (or the AL East title for Boston), but in the last week, things have gotten interesting. St. Louis swept Atlanta to move just 4.5 games behind Atlanta and Tampa Bay is now just 3.5 games behind the Red Sox as Boston finished a 1-6 road trip, including being swept by the Rays.
Still, there's not a whole lot of baseball left, the two favorites are still favored by mathematicians to hold onto their leads. So it's not time to panic, right?
"Hell yeah, you've got to panic at this point, but you're not going to do anything panicking but playing better," Boston's David Ortiz told reporters (Boston Herald). "Of course you're freaked out, you go on this road trip, 1-6, it's not good. We've got these guys breathing down our next and we're not in first place, either."
Give him credit, Ortiz is always entertaining and this time he's right. The team should worry about the Rays and can't get too worked up about it because panic doesn't help a team play any better. It's an interesting balancing act, playing with urgency, but not panic. Baseball's a tough game that's even tougher when you press.
Cuddyer's homer helped save teammate: Twins outfielder Michael Cuddyer hit two game-winning homers in a minor-league playoff series in 2001 to lead his team to a victory in the best-of-five series. If his team had lost the series, teammate Brad Thomas and his wife, Kylie, had already booked a flight home to Australia. The couple would have started its journey on American Airlines Flight 11 from Boston to Los Angeles on Sept. 11, 2001. With the win, Thomas and his wife had to stay for the next series.
"He credits me for saving his life," Cuddyer told MLB.com. "I mean, I don't know about that. It was just a twist of fate."
Thomas is currently on the Tigers' 60-day disabled list.
Cuddyer also wrote about the incident on FoxSports North.
Wainwright remembers: We all have our own personal stories about where we were on Sept. 11, 2001 -- I drove from Athens, Ga., to Washington, D.C., the day before to go to see PJ Harvey at the 9:30 Club on Sept. 10, 2001. I still have the ticket stub and a September 12, 2001, Washington Post to share with my kids some day. Cardinals starter Adam Wainwright was in New York for the Red Sox-Yankees game on Sept. 10, 2001, and then cancelled a morning meeting near the World Trade Center the next day in order to get on the road to Cooperstown with his brother. [St. Louis Post-Dispatch]
Waiting on Theo: Matt touched on this yesterday, but word is Tom Ricketts is willing to wait for his dream GM, Boston's Theo Epstein. While MLB looks down on major offseason announcements before the end of the World Series, those decisions happen all the time and are usually uncovered before the official announcement. However, there is a real wait if one of those interviewed and hired is still working. That could be the case with Boston's Epstein, reportedly Ricketts' top pick. If Epstein is in the least bit interested, Ricketts will wait. [Chicago Tribune]
Beckett to throw: Red Sox right-hander Josh Beckett will test his injured right ankle in a bullpen session Monday and could return to the rotation by the end of the week -- welcome news to the Red Sox. [Boston Herald]
Weeks to go slow: Rickie Weeks returned to the Brewers' lineup on Sunday, walking and being hit by a pitch in his only plate appearances and was taken out of the game after four innings. The team plans on taking it slow with him. The Brewers are off on Monday and manager Ron Roenicke said he would try to get Weeks back into the game on Tuesday and maybe increase his innings. Weeks missed six weeks after suffering a severe left ankle sprain. [Appleton Post-Crescent]
Cruz ready to return: The Rangers are in the closest playoff race in baseball, leading the Angels by 2.5 games and they get some good news on Tuesday when Nelson Cruz says he'll be ready to return from the disabled list. Cruz went on the DL on Aug. 30 with a strained left hamstring and ran in the outfield on Saturday. The Rangers don't have any minor-league affiliates still playing, so the team will activate Cruz without a rehab assignment. [MLB.com]
Zimmermann bored sitting out: Nationals right-hander Jordan Zimmermann hasn't pitched in two weeks and won't pitch in the final two weeks of the season. The good news is that next season he won't have an innings limit. With Zimmermann and Stephen Strasburg, the Nationals have the building blocks for a very good rotation. [Washington Post]
Prado struggling: An All-Star in 2010, Atlanta's Martin Prado his having a disappointing 2011. The 27-year-old super utility player is hitting .261/.307/.385 this season, well below the .307/.356/.454 line he put up in his first five seasons in the big leagues. The prolonged slump is costing him sleep, Prado told the Atlanta Journal-Constitution.
Romine relishes chance: While Jesus Montero garnered headlines when he was called up, the Yankees have a better catching prospect, Austin Romine. With injuries to Russell Martin and Francisco Cervelli, Romine made his big-league debut on Sunday. Romine had thought his season was over after Triple-A Scranton/Wilkes-Barre finished its season, but Joe Girardi needed a replacement and got in touch with Romine on Saturday. Girardi hadn't been able to get in touch with the catcher, so he had to go to the Angels' clubhouse to talk to Romine's brother, Andrew, an infielder with the Angles, to get a better number. Austin Romine replaced Montero in the ninth inning, catching Mariano Rivera, who recorded his 599th career save. [MLB.com]
ThunderBolts to White Sox: Just two years ago Dylan Axelrod was pitching for the Windy City ThunderBolts of the independent Frontier League. On Wednesday, he'll be throwing in the Windy City again, but for the White Sox in place of former Cy Young winner Jake Peavy. [Chicago Tribune]
Mo Coco: Reds closer Francisco Cordero is willing to re-negotiate his $12 million option for 2012 and general manager Walt Jocketty told John Fay of the Cincinnati Enquirer that an extension is a "possibility." Cordero, a whipping boy in Cincinnati, has had an outstanding year, recording 32 saves with a 2.30 ERA with five blown saves. Since coming to the Reds in 2008, Cordero has 145 saves and 23 blown saves, converting 86 percent of his chances with a 2.94 ERA. The Reds don't have an obvious candidate to take over in the ninth inning if they decline his $12 million option. He was the team's highest-paid player in 2011 and his $12 million in 2012 would be the tied for the team's highest-paid player along with second baseman Brandon Phillips, who also has a $12 million option for 2012 that the team is expected to pick up.
Eat before you go: We see a report like this just about every year, but it's always a good reminder -- if you want your food handled properly before you eat it, you've got to make sure to do it yourself. [CBS Chicago]
Bourjos takes blame: We all have those people we know or work with that will never admit fault -- there's always some crazy excuse or reason something went wrong, and it's never their fault, it's some extenuating circumstance. The Angels' Peter Bourjos is not that guy. His error doomed the Angels on Sunday, and instead of complaining about the sun or anything, taking full responsibility for the play that killed his team. [Los Angeles Times]
For more baseball news, rumors and analysis, follow @eyeonbaseball on Twitter or subscribe to the RSS feed.