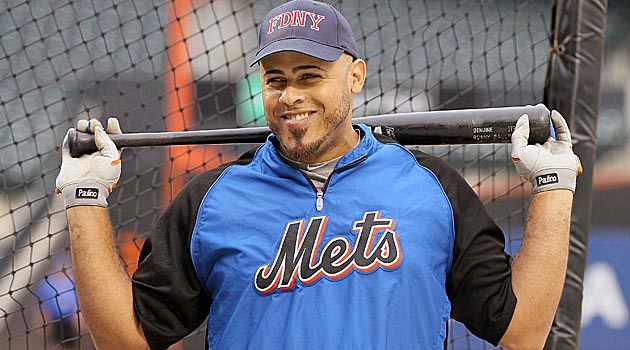 By Matt Snyder
One big storyline that emerged in baseball Sunday night was the
Mets
not being allowed to wear first responder (NYPD, FDNY, etc.) hats
during the national telecast on ESPN. They did wear them in pre-game festivities -- as seen above on
Ronny Paulino
-- but not during the actual game, per MLB rule.
It turns out, according to
a report from the New York Post
Tuesday, there may be more than initially met the eye. Reportedly, commissioner Bud Selig called the Mets Sunday night and was "irate" that the team threw Major League Baseball under the proverbial bus.
"[Selig] got embarrassed by it," a Mets official said (
New York Post
). "The game got moved into prime time because of 9/11, and [MLB] ended up getting embarrassed."
The report also notes that Joe Torre -- who was named as the person who ordered the Mets to not wear the hats -- said there was a league-wide memo sent out but nothing specifically about the Mets, nor was the message anything "heavy-handed."
And then there's this (
New York Post
):
But another source said Mets COO Jeff Wilpon was "back and forth" with the commissioner's office on the matter until the proverbial 11th hour, when it was decided the Mets, on the hook for a $25 million loan from MLB, shouldn't risk the wrath of Selig.
So, if all this is true, the Mets basically forced their players to comply and let the commissioner's office take the blame in nefarious manner -- even though they didn't want to risk the wrath of Selig?
It's hard to know who to trust here. It seems like there's blame to be placed in both camps, but the bottom line is the players should have just been allowed to wear the special hats. It's a hat. Don't give me slippery slope on this. It's the 10-year anniversary of 9/11 in New York City. That's a special circumstance. Whether it's Wilpon, Selig, Torre or any combination of the three, someone dropped the ball.
"Moneyball" venom:
There's a
story in the LA Times
about the "Moneyball" movie coming out and how polarizing it is. One telling quote is how, after winning the World Series last season,
Giants
executive Tony Siegle said "so much for Moneyball" in celebration. Later in the article, Siegle cops to having never read the book. And here's the crux of my criticism with those criticizing "Moneyball." The book wasn't saying A's general manager Billy Beane invented sabermetrics (he didn't) or that he was reinventing the wheel (he wasn't). It was just a story about a GM trying to find a creative way to compete with a less than competitive payroll. And he did for several years. It doesn't claim he invented on-base percentage or that he's a genius. It's a story. A good one. Maybe read the book before you complain about it. Nothing drives me more crazy than hearing something like "Moneyball doesn't work." Moneyball is a book -- and now a movie --
not
a strategy.
More McCourt hate?
Click here and check out the picture
. Notice the MLB produced a poster talking about a special promotion where all the teams are giving money to Stand Up To Cancer. Also note the asterisk and specific mention the
Dodgers
aren't giving to the charity.
The Sons of Steve Garvey
notes that the Dodgers are giving proceeds to their own cancer charity (ThinkCure) and this could just be another way of Selig's office to sleight McCourt's administration.
More Rays' financial woes:
It's no secret the Rays have money troubles, despite a stellar on-field product for the past handful of seasons. Payroll was cut after last season and several guys who had previously been key pieces were either traded or walked via free agency. Still, things are tighter than ever. " ... we've clearly fallen short on our financial projections," principle owner Stuart Sternburg said (
TampaBay.com
). "We have to make some projections but I could not have projected our attendance would be down what it was. I don't think anybody would have thought that either. ... Nothing positive happened financially this year. We were last (in attendance going into the weekend). I hadn't even realized that. I didn't forecast last."
Berkman's leverage:
Outfielder
Lance Berkman
has enjoyed a career renaissance with the
Cardinals
this season and reports have indicated he wants to stay put. In fact, several reports from the St. Louis area said the Cardinals didn't trade Berkman when he cleared waivers in the last week of August because they feared that would prevent them from retaining him. So it seemed like a pretty sure thing he'd stay put. Not so fast, tweets
Joe Strauss of the St. Louis Post-Dispatch
. Strauss says it might not be a sure thing and that Berkman has leverage. Remember also, the Cardinals' payroll is going to be tight if they retain free-agent-to-be
Albert Pujols
.
'Man in White' travels to Minnesota?
One of my favorite storylines of the season has been mocking those who really believe
Jose Bautista
and the
Blue Jays
are
aided by a rogue sign stealer in Toronto
. So, of course, since that story broke I make it a point to pass along whenever the Jays either don't hit well at home or explode on the road. And check this one out, courtesy of
The Hardball Times
: Bautista has seven career home runs in 34 plate appearances in Minnesota's Target Field.
Justin Morneau
,
Joe Mauer
,
Denard Span
,
Ben Revere
,
Nick Punto
and
Tsuyoshi Nishioka
have combined for 1,683 plate appearances in the
Twins
' new home. And they've combined for
six
home runs. Amazing. At his pace in that number of plate appearances, Bautista would hit 347 home runs.
Rangers staying in house:
Some rumors have indicated the Rangers might be in on the Albert Pujols or
Prince Fielder
sweepstakes, but instead the Rangers are reportedly going to stick with
Mitch Moreland
at first base (
MLB.com
). It makes at least some sense. They'd be better served shoring up pitching -- All-Star starting pitcher
C.J. Wilson
is a free agent, too -- than worrying about beefing up an already potent offense. Plus, Moreland is only 26, really cheap and under team control for a while. If he further develops his power stroke (16 home runs and 21 doubles this year), he'll end up being a bargain.
No safety helmets for Philly:
Despite second baseman
Chase Utley
suffering a
concussion from being hit in the helmet by a pitch
, the
Phillies
players are still declining to use a new, safer helmet model (
Philly.com
).
For more baseball news, rumors and analysis, follow @EyeOnBaseball on Twitter or subscribe to the RSS feed.