By Matt Snyder
One of the big stories from out of
Giants
camp this past spring was that
Pablo Sandoval
had gone through a rigorous offseason training regimen that helped him drop 40 pounds. He was determined to get back to his 2009 form --
and he's done that, by the way
-- so he got after it.
But now, there have been a few questions raised in the Bay area about whether or not Panda has regained some of the lost lbs. His manager admitted his third baseman has added a few, but not many.
"He's put on a few," Bochy admitted (
Extra Baggs
). "But not like he did last year. Overall, it's been good."
So let's go to the visual evidence. The picture on the left is from spring training while the picture on the right is from just a few days ago.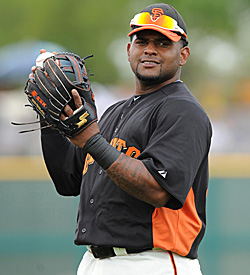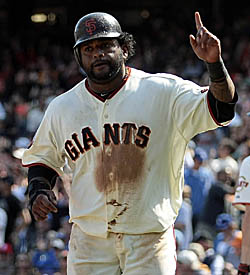 I think he looks a
little
more hefty in the recent photo, but it's pretty negligible, no? Certainly not anything to get worked up over.
Also, the most important thing is production, and he's hitting .301/.345/.516 this season compared to .268/.323/.409 from last year. He can trim the pounds back off in the offseason if it's a huge deal and maybe he loses track of things during the season when he's concentrating on, you know, playing baseball.
Hat-tip:
Giants Cove
For more baseball news, rumors and analysis, follow @EyeOnBaseball on Twitter or subscribe to the RSS feed.