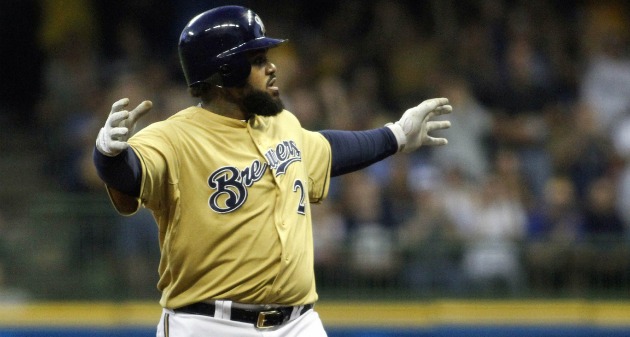 By Evan Brunell

Prince Fielder
admits that 2011 is "probably the last year" in Milwaukee to TBS in a feature for the playoffs according
to SI.com
, sparking a controversy just before the postseason that the team doesn't need.
"I'm signed for this year, but being real about it, it is probably the last year," Fielder admitted to announcer Brian Anderson. "It's been great [to play with
Ryan Braun
], unfortunately, this is probably the last year of the one-two punch... But I think it's been good, [five] years, him and me. Hopefully, we can go out with a blast."
There's no question Fielder knows what he's doing with the bat: 222 home runs from 2006 to date speaks to that, as well as a powerful .294/.407/.543 line on the season with 32 home runs and 109 RBI in a league-leading 149 games. But he doesn't know what he's doing if he thought it was a good idea to candidly address his prospects of staying in Milwaukee, especially as the Brew Crew wraps up a successful season and heads into the playoffs with the NL Central crown.
While Fielder is only saying what many have guessed at for a while, he doesn't need to be packing his house up before his tenure with the
Brewers
is done. The team needs to focus on October, not on what happens after October. It's not Fielder's fault that he was posed the question -- one he's been asked all season -- but did he really need to answer candidly at this point? It's only going to take the focus of the team off of the postseason and onto Fielder.
"This game we play is a job, it's a profession," Braun, who now has to deal with the story, told Anderson. "Sometimes I think we lose sight of that which is a good thing. But there's always a business side. Everybody has to do what is in their best interest. The best interest of their family. Guys earn a right to become free agents. You never know what's going to happen when you get there. But for him, I couldn't see why every team in baseball wouldn't want him on their team. Certainly, he will get some huge offers in the offseason. So for us right now, we are just trying to enjoy while we're together, enjoy the fact that he's still a member of the Milwaukee Brewers and accomplish as much as we can this year."
For more baseball news, rumors and analysis, follow @EyeonBaseball on Twitter or subscribe to the RSS feed.