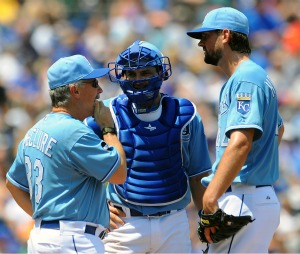 By C. Trent Rosecrans
After throwing a career-high 198 innings, the Royals are shutting down starter Luke Hochevar. The former top overall pick of the draft went 11-11 with a 4.68 ERA in 2011, the most innings he's thrown in his professional career.
Last year he threw 108 innings -- 103 for the Royals -- after throwing 191 innings in 2009 between the Royals (143) and Triple-A Omaha (48).
Hochevar picked up his 11th victory of the season on Wednesday, throwing six innings in his 31st start of the season. The 28-year-old went 6-3 with a 3.52 ERA in 12 starts after the All-Star break.
"Could he finish the year? Yeah. He wants to," manager Ned Yost told reporters (via the Kansas City Star). "But for me, it just doesn't make any sense to continue to push his innings when he's in a good spot. It gives us an opportunity to look at somebody else."
Hochevar would have made two more starts, on Tuesday and on Sept. 25. The Star's Bob Dutton speculates right-hander Luis Mendoza could take Hochevar's spot if the Triple-A Storm Chasers finish out the Pacific Coast League playoffs in a timely fashion. Omaha currently leads Sacramento 2-0 in the best-of-five championship series. Omaha plays at Sacramento on Friday with heralded left-hander Mike Montgomery scheduled to pitch in what could be the clinching game. Mendoza isn't on the team's 40-man roster, but the Royals currently have an open spot. Right-handers Vin Mazzaro and Sean O'Sullivan are on the 40-man and could also get the call, with at least one of them likely to make a start for Kansas City before the end of the season, if not both.
Kansas City has already shut down lefty Danny Duffy. Duffy went 4-8 with a 5.64 ERA in 20 starts this season. Left-hander Jeff Francis will also be shut down after his start on Thursday against the White Sox. Francis entered the night 5-16 with a 4.88 ERA.
Felipe Paulino, Everett Teaford and Bruce Chen are left in the rotation to finish out the season.
For more baseball news, rumors and analysis, follow @eyeonbaseball on Twitter or subscribe to the RSS feed.