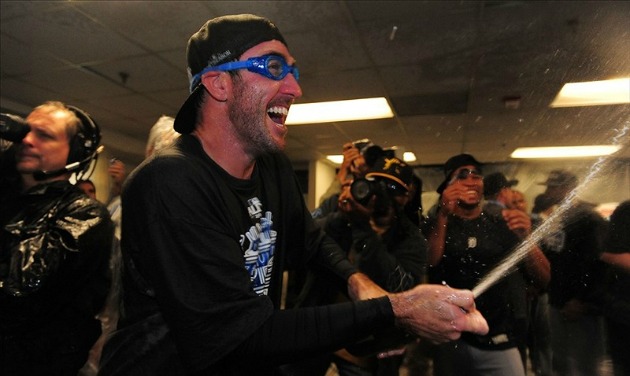 By C. Trent Rosecrans
Before Friday, the last time the Detroit Tigers won their division, there was no Central division and the Brewers were in the American League. With a 3-1 victory over the Athletics on Friday, the Tigers clinched the American League Central, their first division title since 1987.
Doug Fister allowed just three hits in eight innings of work, while Don Kelly had two hits and drove in two on a single and a solo homer to lead the Tigers to the win over the A's, clinching the division for Detroit.
Detroit made it to the World Series in 2006, winning the wild card before losing to the Cardinals in five games. Their last division title came back before there was Central Division and the team finished two games ahead of the Blue Jays and seven games ahead of the Brewers in the AL East.
The Tigers were as many as eight games behind the Indians early in the season, but overtook Cleveland for good on July 21 after trading the division lead for most of June and July. Detroit's recent 12-game winning streak extended a 5.5-game lead to 13.5 going into Friday.
Fister, acquired in a trade-deadline deal from the Mariners with David Pauley in exchange for Charlie Furbush and others, was 5-1 with a 2.28 ERA in his first eight starts for Detroit, adding some depth to the Detroit rotation behind Justin Verlander. Fister was 3-12 with a 3.33 ERA in 21 starts for the Mariners.
The Tigers are the second team to clinch a playoff berth, but first to clinch their division. Philadelphia missed a chance to clinch the National League East after the Braves lost to the Mets, but fell 4-2 in 11 innings to the Cardinals at home.
Cleveland held on to beat the Twins earlier on Friday, keeping the Indians' chance alive for a couple of more hours, but any real shot at making it a race were dashed when the Tigers swept the Indians in Cleveland last week.
For more baseball news, rumors and analysis, follow @eyeonbaseball on Twitter or subscribe to the RSS feed.