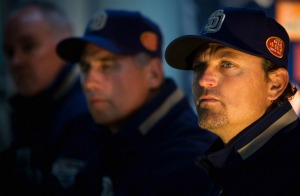 By C. Trent Rosecrans
Trevor Hoffman is now No. 2 on the all-time saves list and he appears fine with it.
"Being second to Mariano Rivera, it's not like there's anything wrong with that. There's no shame in it," Hoffman told MLB.com's Barry Bloom. "I'm happy for him. He's earned it. And I'm comfortable where I stand."

Rivera picked up his 602nd career save on Monday, passing Hoffman's career total of 601.
Even during the time he dominated, Hoffman was clearly behind Rivera. I'm not sure I would even have named him No. 2 at any particular time, but his consistency and longevity have made Hoffman even better in retrospect.
So many of the dominant closers during the Rivera years lacked sticking power -- looking back at the saves leaders since Rivera took over the full-time closer's role in 1997, there's the likes of Eddie Guardado, Robb Nenn, Eric Gagne, Armando Benitez, Chad Cordero, Joe Borowski, Brian Fuentes and Rafael Soriano -- not to mention Ugueth Urbina, Jeff Shaw, Eric Gagne, Bob Wickman, Tom Gordon and Jason Isringhausen. That's plenty of good pitchers, but plaque-makers in upstate New York need only to start working up sketches of Hoffman and Rivera.
Hoffman said he admires Rivera both as a pitcher and a person, even though he never spent much time with him.
"There's been mutual respect across the board for what we've accomplished," Hoffman told Bloom. "I've privately admired his work from afar and what he stands for as a person. Being able to do that over time has been pretty cool. As far as who's coming and whether 700 is reachable for somebody remains to be seen."
It'd be folly to say Rivera's final mark, whatever it may end up being, won't be touched. But since Francisco Cordero's 323 career saves are the most by any active pitcher not named Rivera, it's unlikely the mark will be broken anytime soon.
For more baseball news, rumors and analysis, follow @eyeonbaseball on Twitter or subscribe to the RSS feed.