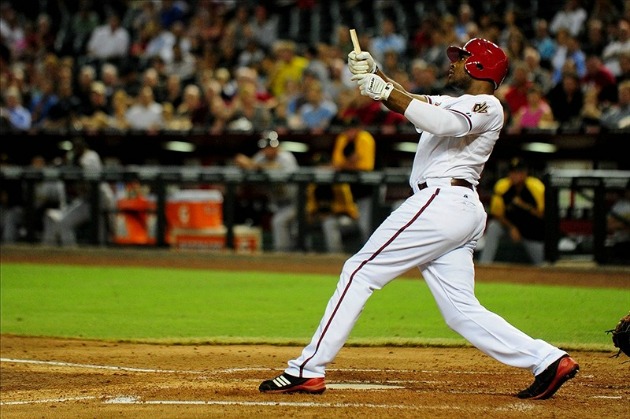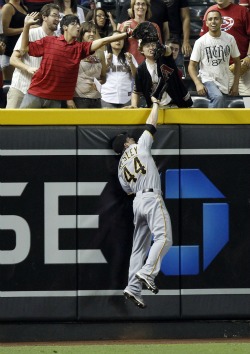 By C. Trent Rosecrans
Look at that photo above, and then look at the one to the right.
There is absolutely no reason for the two to be taken of the same play. But they were.
Really. Watch it here.
Yep, Justin Upton's 31st home run of the season was literally unbelievable. Pirates pitcher Jeff Carstens thought he made a great pitch on a 3-0 count. Carstens watched his 87-mph sinker shatter Upton's bat. By all logic, it should have been an easy out for left fielder Alex Presley. Instead, it landed in the left field stands.
The barrel ended up just beyond third base, while the ball went much further.

"When I saw the bat go flying, I thought it would hang up and I'd catch it like normal," Presely told the Pittsburgh Tribune-Review's Rob Biertempfel. "I got back there in time and thought I was going to be able to make a play, but it didn't work out."
After the game, Karstens told the Pittsburgh Trubune-Review: "All you can do is tip your cap to him. The bat snapped in half and the ball still went out. NO reason to be mad over it."
But really, Karsten's face right after the homer said even more: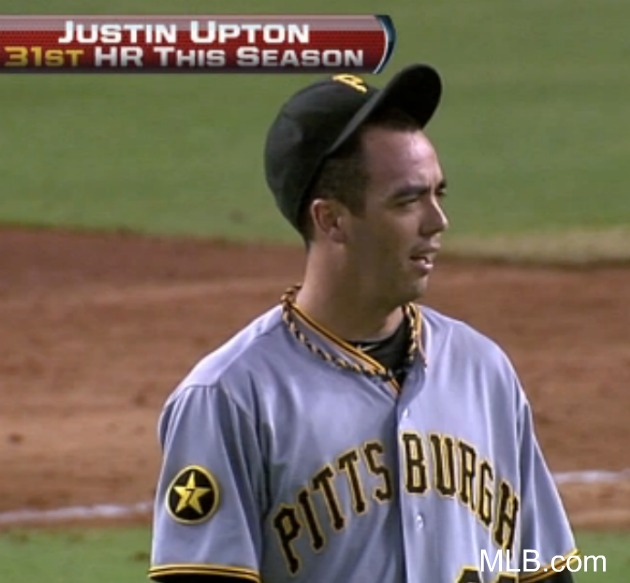 It was the only run the Diamondbacks would score, but the only one they needed as Arizona's Ian Kennedy allowed just two hits in eight inning, while closer J.J. Putz picked up the save.
Pittsburgh has scored just one run over its last 25 innings and is now tied with Chicago for fourth place in the National League Central.
For more baseball news, rumors and analysis, follow @eyeonbaseball on Twitter or subscribe to the RSS feed.