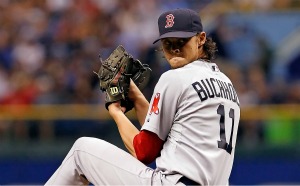 By Evan Brunell

Clay Buchholz
took the next step towards returning to the
Red Sox
pitching staff by throwing to hitters for the first time since hitting the disabled list on June 16,
WEEI reports
.
"Location wasn't what it should be, which is expected, but ball's coming out of my hand and no problem with the back. It feels good," Buchholz said. "[There was] no pain. Everything was fine. Trying to not compensate for anything and finish my delivery like I normally would."
Buchholz has been sidelined since June with a balky back and the team has missed him severely. His 3.48 ERA in 14 starts would be much welcome for a team that has struggled to fill the gap behind
Josh Beckett
and
Jon Lester
, but if Buchholz returns, it will be as a reliever, and may not even get into a game during the regular season. Buchholz doesn't mind either way, but hopes he can contribute in October at a minimum.
"That's the team's call if they want me to come back, get some innings in [against Baltimore]. Gotta see how this postseason run is going to be and go from there," said Buchholz. "[Pitching in the playoffs is] what I want to do. Today was a first step in that direction and everything felt good."
The righty threw 25 warmup pitches in the bullpen then simulated an inning against
Jose Iglesias
,
Lars Anderson
,
Ryan Lavarnway
and
Joey Gathright
, throwing 32 pitches in all. He said he was throwing at 85 to 90 percent intensity, afraid of harming a hitter. The Red Sox likely prefer that Buchholz doesn't go max effort in his first time throwing to hitters anyways. He was able to throw all his pitches which includea fastball, curveball, changeup and cutter.
His next simulated game could come on Thursday or Friday in New York provided his body responds well to Tuesday's outing. He believes that as long as his back holds up, he can make an impact in the postseason despite his arm being sidelined from game action for three months.
"I've been throwing pretty much the whole time, playing catch, not necessarily pitching. My arm doesn't feel near as not ready as it does in the offseason going into spring training," said Buchholz. "Obviously, nobody wants to sit out two and a half months, three months. It's been tough watching the guys go out there. Even when we're playing good, I want to go out there. It's tough right now. like I said, I'm trying to get to the point where I can come back and help this team win."
For more baseball news, rumors and analysis, follow @EyeonBaseball on Twitter or subscribe to the RSS feed.