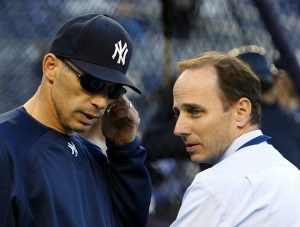 By C. Trent Rosecrans
Not only did Brian Cashman get an iPad for pretending to want Carl Crawford, he also got the Red Sox to (in retrospect) overpay.
Speaking to ESPNNewYork.com, the Yankees general manager admitted he didn't really have any interest in the left fielder, instead, he just wanted his rivals to have to shell out more money. In the end, Crawford signed a seven-year, $142 million contract with the Red Sox.
"I actually had dinner with the agent to pretend that we were actually involved and drive the price up," Cashman told ESPNNewYork.com. "The outfield wasn't an area of need, but everybody kept writing Crawford, Crawford, Crawford, Crawford. And I was like, 'I feel like we've got Carl Crawford in Brett Gardner, except he costs more than $100 million less, with less experience."
For the $14 million that Crawford is making in 2011, he's hit .259/.295/.410 with 11 home runs, 55 RBI, 18 stolen bases and scored 63 runs. Gardner, two years younger than Crawford, made $530,000 this season and is arbitration-eligible after the season. He's hit .261/.347/.374 with seven home runs, 36 RBI, 46 stolen bases and 83 runs scored. He's also the better defensive player, so it's obvious Cashman made the right choice -- at least for this season.
Cashman said the team's pursuit of Cliff Lee, on the other hand, was very much real. Cashman also said he was ready to send catching prospect Jesus Montero to Seattle to get Lee at midseason.
"You take all the players traded when Lee went to Cleveland to Philly, Philly to Seattle, and Seattle to Texas, and Montero would've been by far the best player moved in any of those deals," Cashman told the website.
For more baseball news, rumors and analysis, follow @eyeonbaseball on Twitter or subscribe to the RSS feed.