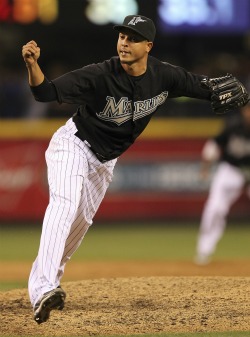 By C. Trent Rosecrans
You can look up Leo Nunez on Baseball-Reference.com, but his real name is Juan Carlos Oviedo, and that could result in the Marlins' closer spending time in jail, the Miami Herald reports.
Oviedo returned to the Dominican Republic on Thursday after the Marlins placed him on the restricted list.
A spokesperson for the Dominican Attorney General's Office, Jacqueline Lamarche, told the newspaper that Oviedo faces jail time if convicted, but didn't know if he would be charged. However, a with a false identity on his record, he could face difficulties obtaining a visa to return to the United States and play baseball, even though others have done it in the past.
Oviedo had claimed to be born in 1983 and was from Jamao del Norte, although he was born a year earlier than he claimed. He signed with the Pirates in 2000. Leo Nunez is the name of his best friend.
Hector Bienvenido Pena was arrested Friday in the Dominican Republic, charged with providing false birth certificates to Oviedo, among other players.
According to the report, Oviedo called the Dominican consulate in Miami on Sept. 7 to come clean after the Marlins had learned of his true identity.
"He came in and made a sworn declaration saying that he was not from Jamao al Norte but from Bonao, a town in the Dominican Republic, and that when he was young -- still a minor and a prospect about to be signed -- a coach who managed his league recommended that he assume another name, one of a person a year young, so that he could get a better contract," consul general Manuel Felipe told the Herald. "So he became Leonel Nunez Morales, who was his best friend since childhood. That made it easier for him, because Leonel was 16, which was the appropriate age for a Dominican baseball player."
Marlins reliever Edward Mujica told the newspaper that the age difference could cost you $100,000 or $150,000 if you're 17 and if you're 18, you'd be lucky to get $5,000 and a chance."
MLB offered amnesty to players signed under false names in 2008, but Oviedo didn't come forward at that time. Minor-league players face a one-year suspension if found to have signed under a false name, while major leaguers are subject to discipline to be determined by the commissioner's office.
Oviedo said he couldn't go to the funerals of some family members because of his assumed identity.
Oviedo has 36 saves for the Marlins this season and 92 since being acquired from the Royals in exchange for Mike Jacobs in 2008. He signed a one-year contract worth $3.65 million for 2011 and is arbitration-eligible for 2012 and could be a free agent before the 2013 season.
For more baseball news, rumors and analysis, follow @eyeonbaseball on Twitter or subscribe to the RSS feed.